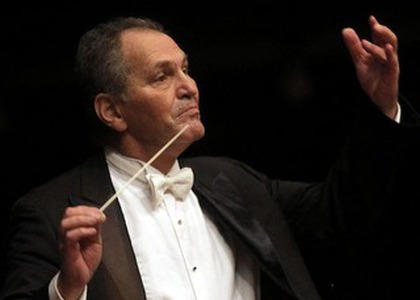 Interview with conductor Cristian Mandeal about the concert dedicated to the homage of conductor Camil Marinescu
Thursday, 25 February 2021 , ora 14.45

Tomorrow evening, from 19.00, the Radio Chamber Orchestra will hold a new concert without audience in the hall, but broadcast live by our station. The program is dedicated to the homage of conductor CamilMarinescu, who died in July last year after being infected with the new coronavirus. At the conducting desk will be the one who was one of his mentors - maestro Cristian Mandeal.
Details about the concert can be found from maestro Cristian Mandeal, in an interview by Florica Jalbă:

How did the idea of paying homage to conductor Camil Marinescu come about, during Wednesday's concert?
It was my idea, because I cared a lot about this man, who was my friend and disciple at the beginning, and I stayed in a very close and friendly relationship all my life. His loss was indeed a major thing for Romania's music culture in general. He was an extraordinary conductor, exceptional, a native talent endowed with a great, great depth, an enormous capacity to assimilate great scores - he conducted the whole Wagner, also Bruckner, I have the impression; In any case, with an impressive repertoire, apart from a lot of opera, which he has conducted in the wide world. So, his loss, really, forms a gap in our artistic landscape, in Romania. This concert, of course, I wanted to dedicate to him, because, once this had to be done and here it was, it was a very good opportunity, I talked to Mrs. Staicu, who agreed perfectly with something like that. We started to compile a program that had to take into account many factors: once, the small number of participants on stage, secondly, the nature of the works included in the repertoire, to be part of the atmosphere of a commemoration, to fit into this spirit, and finally (and this is no small and negligible thing), not to cost money (copyright of the scores). Here are several conditions that greatly restrict your area of ​​choice. Eventually, I agreed to the known program.

... which brings together both romantic titles and works created to be sung in memory of those who are no longer among us.
Yes. The program is aimed at this, even if it does not have a program declared in this sense, it fits as a musical spirit, with this idea, of a good thought to a loved one.
Interview by Florica Jalbă
Translated by Alma Teodora Miron,
University of Bucharest, Faculty of Foreign Languages and Literatures, MTTLC, year I
Corrected by Silvia Petrescu