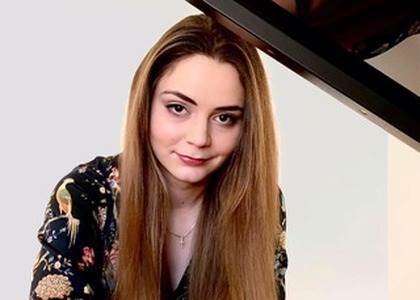 Interview with pianist Daria Tudor
Monday, 1 March 2021 , ora 12.55

Together with the cellist Andrei Ioniță, you gave a recital in Berlin, in the Europe@home series. How do you view this initiative of the violinist Daniel Hope and what did it mean for you to represent Romania in this series?
I watched the Hope@home series by violinist Daniel Hope from the beginning of the pandemic. It was one of the online projects that captivated me and I can say that I never imagined being part of this series when he started online concerts. I was very happy to have this opportunity. I was also happy to be with Andrei and Nobel Laureate Herta Muller. It was an honor and I am happy every time I can represent Romania somewhere, especially when I am with people of such value.

Tell us about the program you performed. Did the numerous collaborations with Andrei Ioniță have a role in his choice?
Perhaps our many collaborations were felt when we agreed at first glance on the repertoire. We both wanted it to be a repertoire of things we grew up with and songs we've heard since we started making music. There are songs that are very dear to me. Of course, Paul Constantinescu is not missing from the repertoire, perhaps also because I grew up with Paul Constantinescu; I was born in Ploiești and my first concerts were in his memorial house. Bartok's Dances and Dimitrescu's Peasant Dance… was the first cello work I heard, and in terms of cello creation it is probably a hit, the best known Romanian encore. We didn't talk much about the repertoire. We knew very clearly what we wanted to play and how we wanted the repertoire to look, and we were glad that the violinist Daniel Hope also agreed with our choices.

How do you describe the collaboration with the cellist?
We know each other… I, at least, have known him for a very long time. We started singing together when I was 11 years old. I don't know if it's a lifelong friendship that has turned into a collaboration even now, in Berlin. It gives me a lot of pleasure to play with him and I hope that is felt in the program you just heard.

I would like to ask you, because we are in the vaccination campaign, do you think that this offers the possibility to return to a normal life of music?
It's very difficult to say, but I personally think it's perhaps our only escape. Of course, I'm also looking forward to being in the age category for vaccination, I'm waiting my turn. At the same time, I understand the perhaps objective opinions of people who would not agree, but, personally, I see it as our only escape and as a possible return to normalcy in the near future.
Interview by Alexandra Scumpu
Translated by Alma Teodora Miron,
University of Bucharest, Faculty of Foreign Languages and Literatures, MTTLC, year I
Corrected by Silvia Petrescu