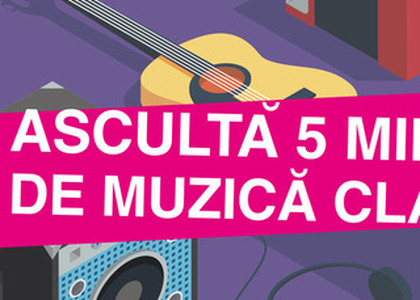 Camelia Popescu - Cora Romania - about the project 'Listen to 5 minutes of classical music'
Monday, 1 March 2021 , ora 13.43

From 1 to 31 March, classical music will be heard again in the stores of Cora Romania, as has been the case for almost 11 years. Camelia Popescu, communication, advertising and CSR manager cora Romania - moving words about the Radio România Muzical project "Listen to 5 minutes of classical music".
"Eleven years of implementation without pause is an extraordinary success for any type of project. Eleven years of classical music in a hypermarket is a success all the greater and more noble, because we put together what many would consider two incompatible notions - classical music and hypermarket. But this incompatibility it's only apparent because, in fact, through this project we bring quality music into a frequented space, like in a modern agora. In addition, in these eleven years, I have noticed that "Listen to 5 minutes of classical music" is an expected and welcome moment, so it meets a need that people have.
Congratulations from the bottom of my heart for our partners at Radio Romania Musical for their passion, for this extraordinary idea that they had and which eleven years ago seemed very bold! Year after year, I found in the team of Radio România Muzical some professionals, some extraordinary people and, behold, visionaries. Happy birthday, "Listen to 5 minutes of classical music" project! Please count on Cora Romania for all the ideas designed to bring balance and well-being to the lives of our customers, to inspire and beautify them every minute. Thank you, Radio România Muzical!"

Translated by Dărăban Denisa,
University of Bucharest, Faculty of Foreign Languages and Literatures, MTTLC, year I
Corrected by Silvia Petrescu