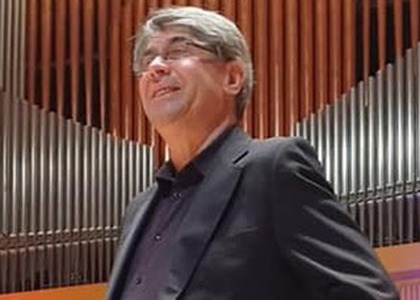 Interview with conductor Ionel Tudor and soloists Irina Sârbu, Nadia Trohin
Monday, 1 March 2021 , ora 13.49

Tonight, from 19.00, the Big Band Radio, led by Ionel Tudor, will present a concert, entitled "The Ladies Sing Jazz", with Irina Sârbu and Nadia Trohin, soloists. Held without an audience in the hall, it will be broadcast live by our station.
Details about the concert can be found from the conductor Ionel Tudor and the soloists Irina Sârbu, Nadia Trohin in an interview by Florica Jalbă during the break of yesterday's rehearsal:

Thursday evening, you will conduct the first concert of this year of the Big Band Radio,
The important thing is that we are, again, on the Radio stage. It is a great joy for us. We are in full form and with us, two exceptional voices come up (and, besides being very, very talented, these two girls are also very beautiful) and this makes us happy every time it happens. The concept of this concert - we have been designing this concert for a year, each time it was postponed due to this pandemic.

Irina Sârbu: We are glad that we finally managed to be together, even if only online. We miss the audience, but, for sure, soon, we will be able to sing with the hall full, as usual.

Irina Sârbu, what are we listening to tomorrow? What are you singing to us?
Jazz standards, Almost, Like be in love, blues, Alright, OK, Billy Bounds.
Ionel Tudor: It is a very beautiful and very heavy music.
Irina Sârbu: My favorite song from tomorrow's repertoire is Cherokee, in a super, extraordinary and very alert arrangement.
Nadia Trohin: All songs are favorite. They are generally signed by well-known classical composers, and beautiful, effervescent arrangements and we hope you enjoy them, as we do, after a long break.
Ionel Tudor: We have a lot in the plan. We have to release a CD with Luiza Zan, also postponed for a year and a half. The CD is already released with an exceptional print, made live from the concert. I would like to bring Sorin Zlat. He is a very good pianist, from the young generation. We have a lot to do, the problem is and we can do it. We are missing the audience tomorrow night. We hope, at the next concert, to have at least 30% the hall occupied, because in all theaters, this happens. With us, it is not possible at the moment.
Interview by Florica Jalbă
Translated by Alma Teodora Miron,
University of Bucharest, Faculty of Foreign Languages and Literatures, MTTLC, year I
Corrected by Silvia Petrescu