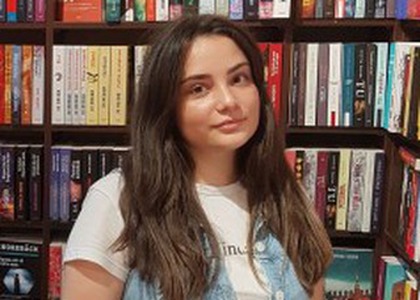 Interview with Ruxandra Georgescu on the discounts found in the Humanitas bookshops
Monday, 1 March 2021 , ora 13.54

The classical music days are marked this year, as always, by the collaboration between our radio station and the Humanitas Bookshops. Between March 1st -31st the HumanitasKretzulescu Bookshop offers a 15% discount for all the CD's, and in the interval March 24th-28th these discounts will be available in all the Humanitas bookshops.

It's not the first year when the Humanitas bookshops celebrate The Classical Music Day with a series of discounts. What do these partners mean to you?
Indeed, this is the fourth year when we have this partnership. Our customers have been waiting for two years for this campaign that always takes place in March, at the beginning of spring, at the beginning of the season, and we are glad that it became a tradition. This partnership means for us another confirmation of the fact that those who step through the doors of the Humanitas' bookshops expect from us not only the best, newest or most interesting editorial apparitions, but that they come in our bookshops for the atmosphere they find here, an atmosphere maintained by such partners as Radio RomâniaMuzical.

I would like for you to tell us how you customers perceived this initiative in the previous years.
As I said to the previous question, our customers were thrilled and they were not few those who asked us about this partnership. Our booksellers were always there to answer their questions, of course, and their feedback made us realize that March, the month when we had this partnership, was a month when both us and the ones who entered our libraries enjoyed and came closer to classical music.

In what way would you say the pandemic affected sales in general and CD's sales in particular?
The period we went through and which, we must say, we're still going through - because we don't have much certainties, but we hope it will get better and better in the following months - all this situation that began almost a year ago, affected us indeed, both on book and non-book items selling, but after a period of time in which our bookshops have been closed, we came back and we were happy to get back alongside our customers in bookshops, in the spaces that they already knew and missed. Currently we are still kind of accommodating. We want to begin as soon as possible to hold the events that we accustomed our customers to, but at the same time there was a period in which we saw very well that the ones who are visiting us so often showed solidarity to our situation through online purchases, on books, non-book items and CD's.
Interview by Petre Fugaciu
Translated by Codescu Paula-Silvia,
University of Bucharest, Faculty of Foreign Languages and Literatures, MTTLC, year I
Corrected by Silvia Petrescu