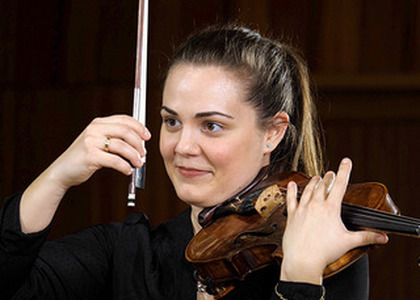 Interview with Cristina Croitoru
Friday, 5 March 2021 , ora 11.38

On the 6th of March, Saturday, starting at 7 PM, the Royal Camerata will give a concert on the Romanian Athenaeum stage. Guided by the motto: "Together Again", the concert will be held with the audience in the hall, within the limit of 30% of the Main Hall seats.

Saturday, the 6th of March, you will be the soloist of the concert at the Romanian Athenaeum given by the Royal Camerata. What is your relationship with this ensemble?
Firstly, I'm friends not only with the ensemble but also with its members; it's a friendship that originated right from the beginnings of the Royal Camerata project. And, as in any family, we've been through thick and thin together, and therefore we've managed to maintain a beautiful collaboration.

You will interpret Antonio Vivaldi's Seasons. How does SiminaCroitoru approach this composition? Does the fact that she's renowned bring a certain difficulty when it comes to interpretation?
I'm not sure about the difficulty necessarily. Certainly, the public's expectations are always high when they know a work very well. But when it comes to me, I enjoy playing them all - all the four seasons - and I think that I'll try to bring an extra dose of optimism at this Spring's beginning, which precedes a hard time, especially in the artistic life.

The concert is held under the motto: "Together Again," emphasising the reunion with the audience. Are you looking forward to this reunion?
Of course, I'm looking forward to it! I think that it's not only the audience who have been waiting for this reunion breathlessly but also us - the interpreters, because the artistic performance cannot function properly without the artist-audience relationship. The feedback we get when we interpret before an audience and deliver a message is essential for us as interpreters. I guess without it, there can be no bounding, musically speaking.

Finally, taking into account the period we are going through, vaccination seems to be the solution for returning to normality and former musical life. What is your opinion? Would you opt for vaccination?
As a rule, I avoid talking about the things I don't have expertise in, and, as I am no doctor, the subject of vaccination is beyond me. But I can tell you that I was vaccinated yesterday. So yes, I opted for it.
Interview by Maria Isabella Nica
Translated by Cotar Alexandr,
University of Bucharest, Faculty of Foreign Languages and Literatures, MTTLC, year II
Corrected by Silvia Petrescu