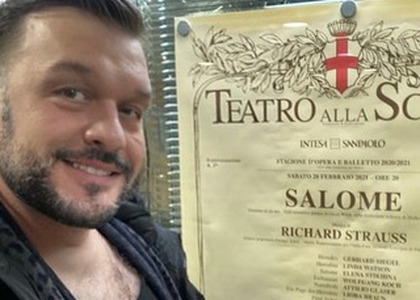 Interview with bass baritone Sorin Coliban
Monday, 8 March 2021 , ora 13.34

On February 20th, the Scala Theater in Milan broadcast via radio and TV the opera Salomeea by Richard Strauss, performed without an audience in the hall. The cast also included the Romanian bass baritone Sorin Coliban, who was in his first collaboration with the prestigious lyrical theater.
About this show and about the following projects of the artist we find out from the interview done by Florica Jalbă:

February brought you your debut on the stage of the Scala theater in Milan. How was this new experience?
It was a wonderful experience, because in fact I had to play Turandot at the Volksoper in Vienna during this period, but unfortunately (as we know, also because of this pandemic), it was canceled and I received this unexpected offer, Salomé, at Scala, in a new production, for which I rehearsed for four weeks. So we started at the end of January and the unique show, given on Italian television RAI5 was on February 20th. It was a lot of work, it was wonderful. I was able to repeat with the wonderful master, Zubin Mehta (who everyone knows), but unfortunately Master Mehta had some health problems, now he is fine, but then he could not direct the show and the show of was conducted by La Scala's musical director, Riccardo Chailly.

Therefore, you had the opportunity to collaborate with two great masters; Riccardo Chailly, for the first time, what do you have to say about that?
For the first time, yes. With maestro Mehta I sang in Bucharest, in the Ninth Symphony, in the Enescu Festival.

How could you describe the production signed by director Damiano Michieletto?
It was a very modern production. So if I say very modern (although I sang in a lot of modern productions), indeed, it was very modern, but it somehow kept the history and had a connection with the religious part of this history, which is actually known from the Bible and, what can I say: very simple scenery, a scene almost only in black and white, and in any case, very modern costumes, so the costumes brought to our time, in the XXI century. The dance of the seven veils was choreographed by a German choreographer, Thomas Wilhelm and was extremely modern, say somewhere in the Pina Bausch tradition, very interesting in any case. The characters were a bit changed, I sang Soldier 1, but I wasn't a soldier, I was kind of a butler in the palace of Herod and Herodias. It had pretty good reviews, the world accepted this modern version.

What shows are you going to have in the next period?
In two months, if all goes well than in the current situation, I will start repeating Timur in Turandot for a new production at the St. Margaret's Festival in Austria and there will be performances until after mid-August, the premiere being on July 14th, and after that, I will make my operatic debut on an opera stage in Denmark. In Denmark I sang opera, but not on the opera stage, but in concert, Siegried de Wagner. This time he will be at the opera in Aarhus and will be Aida. I will sing Ramfis in Aida. Another new production, with rehearsals for a month and a half and shows until the beginning of December.

We are in the middle of a vaccination campaign. What is your opinion on this? Do you think that vaccination will solve the current situation and we will be able to return to normal?
I am on the side of vaccination, but, of course, given that it is a fairly new vaccine and I am not a specialist, so to speak, there is a certain margin, I think, does it help? I would like, for all mankind, to help.
Interview by Florica Jalbă
Translated by Alma Teodora Miron,
University of Bucharest, Faculty of Foreign Languages and Literatures, MTTLC, year I
Corrected by Silvia Petrescu