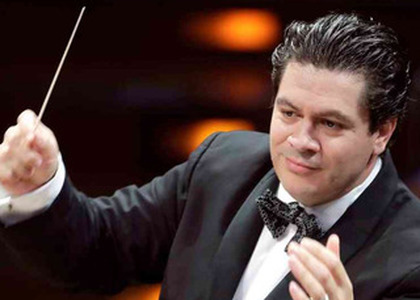 Interview with conductor Cristian Măcelaru
Wednesday, 10 March 2021 , ora 15.35

Tuesday, on the 9th of March, starting at 7 PM, Radio Romania Music will broadcast live the Extraordinary Concert with pianist Daniel Ciobanu and Cristian Macelaru, who will conduct the "George Enescu" Philharmonic Orchestra.

Mr Cristian Măcelaru, on the 9th and 10th of March, you will return to the George Enescu Philharmonic's rostrum. You're the long-awaited presence because of the quality of the concerts that you conduct. During this period, you've conducted the concerts both with and without a live audience. In which of these situations do you feel most comfortable?
Of course, there is no way to replace the energy and beauty of a concert with the public. However, the many concerts that I conducted without the public in the hall were beautiful. Many of them were a necessity not only for us, as musicians, but also for the public that has been eager to hear them. I also think that we, the musicians and the public, wish for the latter to come into the music halls to have this spiritual experience that opens during a concert.

There are solely Beethoven's compositions in the programme of the Romanian Athenaeum. In 2020, the world celebrated the composer's 250th anniversary, but neither the philharmonics nor the world's music halls could celebrate it as they wanted it to. What does Beethoven mean to you?
Beethoven is and will always be the composer, who, at least for me, represents our humanity and this endless battle in which we are engaged daily to discover our limits that we have as mankind. Beethoven was a composer who fought all his life to overcome his personal limits set by nature, and, looking at his music, I appreciate a lot this inner battle that features in each of his compositions. He will remain the ideal composer of our possibilities as people to overcome those barriers and obstacles that show up on our paths and create something gorgeous despite our limits as humans.

Certainly, the two compositions from the programme - Piano Concerto No. 4 and Symphony No. 3, performed alongside pianist Daniel Ciobanu, have a special meaning behind them. Haven't they?
Personally, The Eroica Symphony tells much about Beethoven not only as a composer, an artist but also as a citizen of the world, who contributed to it not just musically but also socially, through the positions he had regarding the things he disapproved of as beneficial to the society. And I talk about the famous story which tells that he wanted this Symphony to be a gift to Napoleon, but after having found out that the latter was crowned as Emperor, he erased the dedication, leaving the Symphony to be dedicated, in fact, to an unknown hero. So this relationship Beethoven had with the society he was living in is crucial for us as artists to know and practice. It's important for us to be involved in the society we're living in, and therefore, it's a symphony that stands out from the rest for me. Regarding the Piano Concerto No. 4, it's simply a masterpiece. In fact, all his Piano Concertos are masterpieces, for they shed light on Beethoven, the pianist, not just the composer, and we can see his other vision, that of a pianist. That's why any of them is like a gemstone for me, and Symphony No. 4 is, as well, a diamond among his creations.

You will play alongside Daniel Ciobanu, the first resident pianist of the "George Enescu"National Philharmonic. Have you already collaborated with him? What do you think of him as a pianist?
Daniel is a very sensitive pianist; he's a special pianist and musician. I have collaborated with him in the past, but not in concerts, unfortunately, for our concert was cancelled during the pandemic. We shared the stage at rehearsals, and I also listened to him playing. Daniel has always impressed me by how he understands music - profound and mature - and that's why I wanted this collaboration. I cannot wait to play this concert near him.

Do you reckon that Daniel Ciobanu's position, as the first resident pianist of the "George Enescu" National Philharmonic, is a step of Bucharest's Philharmonic towards normality? Does it make the Philharmonic correspond to the leading European Philharmonics?
I was most happy with Daniel becoming a resident artist because it helps both the Philharmonic and Daniel. It's a collaboration that defines two mature entities, and that's essential in the musical and artistic world. It's essential for us to have these collaborations that go a little beyond having concerts with different artists. Still, when we choose durable collaborators, we can create a beautiful future together.

You're in Germany now. What is the musical life there like? How does it work? What are the prospects?
Surely, we're all awaiting the end of this madness. But, at the same time, in Germany, as it was done in the rest of the world, most concerts were cancelled. The orchestra I conduct, because it's a WDR affiliated orchestra, kept recording maybe even more intensely than it had been programmed before. That's why, for me, this year has been a very busy one, filled with the projects I didn't expect having. Now we hope to see a change for the better so that we'll be able to resume our concerts with the public. We are still not allowed to have them in Germany.

I will keep you a little longer to wish you a happy birthday in advance because you're turning 41 on the 5th of March, a beautiful age. On the 15th of March, Radio Romania Music will celebrate your anniversary. You're the protagonist of the "Performer of The Day" section from the Arpeggio programme. Please, allow me to ask you whether you have reached your goals so far or even overreached them, would you?
To be honest, I've always wanted to make music, to conduct, to have collaborations with the artists I've always admired and known, and from this point of view, I can say that I have enjoyed the beauty of the music and the beauty of the life filled with music. It's surely the same regarding my private life, my two kids, my wife... I cannot wish for something more!

What are your future projects?
Future projects are numerous. I don't know where to start from. The Orchestra and I continue to promote the music beloved by everyone, but, at the same time, I try to find more less-known and less-interpreted composers. We have plans for both Orchestras, of which I am the chief conductor - the orchestras from Paris and Koln. We want to make more recordings through which I want to make known the music of the forgotten or, better-said, neglected composers. There is wonderful music of the renowned composers, but it's a music that is no longer performed, and that's why I am so focused on the Camille Saint-Saens anniversary in Paris, where we'll perform all of his five symphonies - quite a novelty. In Koln, this week, we are recording the music of Ligeti, Sandor Veress, Bartok, and Kodaly, focusing on the less-known works among their masterpieces.

Thank you and good luck, Mr Cristian Măcelaru! Your presence in Bucharest will be a real pleasure for Radio Romania Music's listeners.
Thank you too!
Photo credit: Thomas Brill
Interview by Jeanine Costache
Translated by Cotar Alexandr,
University of Bucharest, Faculty of Foreign Languages and Literatures, MTTLC, Year II
Corrected by Silvia Petrescu