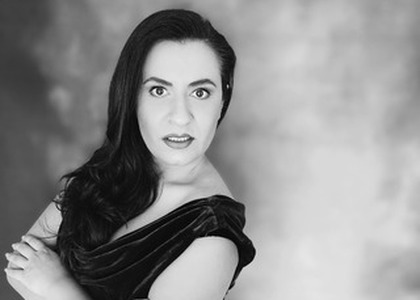 Interview with soprano Rodica Vică
Thursday, 11 March 2021 , ora 14.23

This evening, from 19.00, the concert of the Radio Chamber Orchestra will take place under the direction of conductor David Crescenzi. Held without audience in the Radio Hall, the concert will be broadcast live on Radio Romania Music. As a soloist, the soprano RodicaVică returns to the stage of the Radio, from which we find details from the following interview:

Welcome back to the Radio Hall stage! How did you receive this invitation?
With great joy. We wanted this concert for more than a year, but the pandemic put us in a position to postpone it. I am very happy that I returned to the Radio Hall with the Radio Chamber Orchestra, my soul orchestra, because it is the orchestra with which I made my professional debut at the age of 19. And here, everywhere I go in the world, I think about this debut and every time I return to the stage of the Radio Hall, with this orchestra, I relive those extraordinary moments in my life.

You will perform the motet Exsultate, Jubilee for soprano and orchestra by Mozart. What was the criterion for choosing this opposite?
First of all, we are in this difficult period that we all live in and then I wanted to bring a repertoire full of exuberance, joy, exaltation - just like Mozart says - and to bring the genius of the young Mozart, who composed this motet at the age of 17, to bring it in front of the listeners and those who will watch us tonight.

What projects do you have for the next few months?
It is true that this question is quite sensitive, because due to the situation, projects are canceled from one day to the next. As you well know, we artists have been quite affected by this period. However, a project is certain, which is announced in April and is a project that we created from the root to the final result. It's an international tour called "Just Vivaldi". It is a chamber project produced and conceived by me together with a quintet from Vienna, Improvin. It is a project that commemorates Vivaldi on the 280th anniversary of his death this year. It is a fusion project, which will treat Vivaldi's music with a special improvisation, on themes of composers born in 2021, such as George Enescu, Bela Bartok, Camille Saint-Saens, Gustav Mahler, Wolfgang Amadeus Mozart. And, lo and behold, we will play baroque improvisation in the style of these composers. I thought of this project both offline and online not knowing what the exact situation will be. We have several locations - Madrid, Venice, Vienna, Bucharest and Cluj Napoca, and if the pandemic conditions do not allow us, we will translate it online and broadcast it on all social channels and everything that means online in today.

We are in the middle of a vaccination campaign. What is your opinion on this topic? Will it help us resolve the current situation and return to the concert halls as artists and spectators?
I admit that I am not able to say this, but what I think… for now I consider to be the only solution to return to the concert halls. We will see how things evolve.
Interview by Florica Jalbă
Translated by Alma Teodora Miron,
University of Bucharest, Faculty of Foreign Languages and Literatures, MTTLC, year I
Corrected by Silvia Petrescu