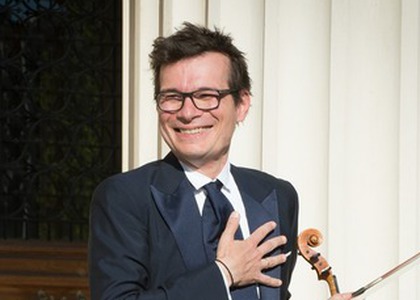 Alexandru Tomescu and Mozart at the Radio Hall. A dialogue with Gabriel Marica at Perpetuum Mobile
Monday, 22 March 2021 , ora 11.21

My guest tonight is violinist Alexandru Tomescu. Good evening!
Good evening and thank you for the invitation!

Alexandru Tomescu, on Friday, March 19th, 2021, you return to the stage of the Radio Hall in a concert with the National Radio Orchestra. If I'm not mistaken, it's your first concert at the Radio Hall in 2021, isn't it?
Yes, indeed. There had been another concert scheduled for January, but it could not be held due to social distancing measures. Here, I am very happy that despite the difficult times we are going through, concerts with the orchestra can still take place at the Radio Hall, with this virtual audience that we reach through radio waves and the internet. It is a moment that I look forward to with great emotion, with great impatience, the reunion with my colleagues from the National Radio Orchestra, with the conductor Cristian Oroșanu, with the music that we serve with so much love and so much passion on a daily basis.

A concertwithout no audience in the hall, unfortunately. How do you feel on stage in front of an empty hall? I suspect that during this pandemic year you have found ways to adapt to thisextraordinary situation, so to speak.
Most certainly, it is important that we all comply with these sanitary measures in order to overcome the pandemic as soon as possible. Us, the artists, use our imagination very often, so that when I am in front of an empty hall, I try to imagine all my listeners who are present virtually, listening to their radios or watching the concert on the internet. I know these people are there and I try to connect my heart to their sensitivity. Of course, we all know that when the audience is in the hall, sometimes someone forgets to turn off their cell phone, someone else coughs, there are always maybe small interruptions, but...

We seem to miss them, don't we?
...Yes exactly. In this past year, in which I have more than onceplayed in such empty halls, which enjoy such a perfect silence, I realized that it was not this perfection of ahollow silence that we were looking for, but that breath took together that we all manage to hold during an inspired concert, in which we all breathe and live exactly to the rhythm of the music. And I look forward, with great interest, to the return of the people, to the return of the public to the performance halls -regardless we are talking of concerts, cinemas, theatres…So many cultural institutions live in such an expectation, undoubtedly living through very delicate moments.

Radio Romania Music listeners and those who will follow you on the internet from 7 P.M. will definitely breathe with you. What will you be interpreting on Friday night?
I chose a Wolfgang Amadeus Mozartconcert. This was usually a repertoire reserved for concerts with the Radio Chamber Orchestra, but given today's measures of social distancing and the physical distancing of musicians on stage, for the time being, we can no longer attack the great scores we had discussed and scheduled one year ago - that's how the seasons were done, one year in advance. We need to become flexible and come up with works that can be performed safely by all musicians. It is a beautiful score from Mozart's youth. One can feel itstinge of optimism and energy and I am convinced that this is exactly the kind of feeling we need now, more than ever.

Last year, an album was released at Casa Radio Publishing House with the recording of this concert with you, obviously, soloist of the National Radio Orchestra, conducted by Cristian Măcelaru. It is, if I am not mistaken, a recording from the 2015 concert. It is an album that also contains the Dvorak Concert there, under the same baton. I would like to quote from the preface of this record; Cristian Măcelaru says about you: "I appreciate the fact that Alexandru looks for the beauty of the sound, the clarity of the interpretation and wants to understand the composer's desire to the smallest detail." Is Mozart one of your favourites?
Undoubtedly, Mozart is one of those I especially love because you can't help but feel his touch of genius. Mozart was a genius. Who else has ever been able to compose so easily, with so much spontaneity and sincerity?! And, indeed, George Enescu said that every note we sing, no matter how small, how insignificant it may seem there, in the immensity of the score, it has its significance, it has its emotional charge and it must be treated with all seriousness, it must be lived and we must give it life so that it can rise to those who are listening to it.

Friday's concert is conducted by Cristian Oroșanu. Your collaboration with Cristian Oroșanu has a long history.
Of course, we have known each other for many years. Weheld many concerts together, including in Brașov, where Cristian founded and leads a very good chamber music ensemble. I am very happy to see him again and I am sure that it will be a concert at the highest standards.

We leave this side of the concert and we remind our listeners that you are an ambassador of the "Listen to 5 minutes of classical music" Project and you started a series of school visits this month. And the first of these targeted schools was School No. 3 in Bucharest, where you yourself studied. Would you please tell us how was the reunion with the school andmeeting with the children?
It was a surprise invitation that I received from the Parents' Association of School No. 3, where my sister and I were pupils for many years. It was a very emotional visit because, obviously, the school was the same, but it seemed smaller than I remembered; especially the festivities hall, where I talked to the children, I playedfor them. I thought it was a very good opportunity to concretely promote this extremely generous campaign of Radio Romania Music, namely "Listen to 5 minutes of classical music". I am firmly convinced that classical musiccan have a long-term effect, even in these homeopathic doses, of only a few minutes a day. And I had the courage to try a small pilot project, as long as schools could be visited, and during the approximately 10 days, two weeks that have passed since then, I totalled 10 schools, about 14 mini-conferences, children from very young ages, 2-3-year-olds, 6th, 7th, 8th grade children. It was an extraordinary energy! First and foremost, I realized how much I missed this contact with the public, with the people, who are eager and curious to listen to my music. An extraordinary thing! Of course, the children have this purity, they have this innate curiosity…they asked me the craziest, funniest questions about music, about the violin, about my favourite composers. Some were really determined, they wanted to start learning to play the violin. I obviously encouraged them, but I told them they still had to have a little more patience. So, I could say that this first pilot project with music in schools,I repeat, in secondary schools, was a very good success. Everyone was very happy, very excited. I received the most unexpected paintings - either drawn on the blackboard in the school hall, or all kinds of drawings, watercolours, creations. All these children are really, very open, very creative. I still believe that in the soul of each of us lives a small artist who only needs to be revealed by each of us. Whether we are talking about the laterconversion of this passion into a profession if we feel this call very strongly or if it is just about living the joy that music offers as a music lover is the choice each of us has to make for oneself.

I can't help but ask you, Alexandru Tomescu, what's next after the concert on Friday night at the Radio Hall?
Of course, there are some other concerts scheduled during the radio season. We need to be brave and set our calendar and schedule in this way because not only musicians but also music lovers need these moments of reunion, be they virtual. I am going to take several trips - I hope they will be possible - to Spain, Germany and work on some ongoing projects, some of them even record projects. For the Summer months, we anticipate this year's edition of the Stradivarius Tournament. It is a decision based on last year's experience, when there were more and more efficientways of holding concertsduring the Summer. During the Summer, I think there will also be a very high density of events, concerts, courses. An important figure related to the commemoration of George Enescu's death is celebrated in August. Then, of course, there is a very important meeting with the Romanian Chamber Orchestra and with maestro Cristian Măcelaru; we have very, very bold projects together again this year. And, of course, many other projects that I do not want to mention out of superstition, because they are still in question, first of all, obviously, due to the very changing circumstances of the pandemic. If one year ago we could make plans for one year, two, three in advance, today we have to think much more carefully, most of the time to take things week by week. But I think that every artist finds the internal resources one needs to be flexible, to adapt to the circumstances we are going through and I reckon that, in the end,reuniting with the public brings the greatest joy.

Speaking of pandemic restrictions, do you consider vaccination a solution to get even closer to normal?
Yes, of course. I hope, that Romania will get to that minimum level in order to reach"herd" immunity, as they say,and the moment in which we can breathe calmer, easier and we can return to our social life, in which we no longer distance ourselves socially, but get closer sociallyas soon as possible…because these distances created in the last year will be very difficult to reverse. We will have a lot of work to do to relearn how to reconnect with each other.

Alexandru Tomescu, unfortunately, as I said a little earlier, you will not have an audience in the hall on Friday night, but the audience of Radio Romania Music will accompany you. I wish you what we all wish, the return of the audience to the concert hall and open-stageapplause as soon as possible!
Interview by Gabriel Marica
Translated by Drangoi Ioana – Alexandra,
University of Bucharest, Faculty of Foreign Languages and Literatures, MTTLC, year II
Corrected by Silvia Petrescu