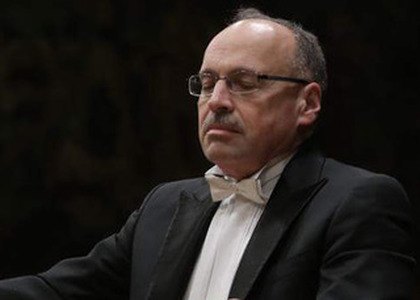 Interview with conductor Iosif Ion Prunner
Wednesday, 31 March 2021 , ora 16.19

The George Enescu Philharmonic choir marks the Easter holidays with a concert that you will be able to watch on Wednesday, March 31st, 2021, live from the Romanian Athenaeum, on the online channels of the Bucharest Philharmonic and on the Facebook page of our station. The conductor Iosif Ion Prunner, who will be at the rostrum, gave us more details in the next interview.

You will conduct the George Enescu Philharmonic choir in an Easter-themed concert. How did the ensemble manage to carry out its activity so far, during the pandemic, and under what conditions will Wednesday's concert take place?
I start with the end… it's obvious that it will be without audience and will be live streaming. Our activity during this period has adapted, of course, to the requirements of the moment. We adapted by working and having known concerts, including with the orchestra, adapting to smaller formulas, in which we were able to present the various works approached. These formulas are viable, we keep the necessary distance. Of course, it's not the most comfortable for us and it takes a lot of effort to get in sync, to be able to play the same music at the same high level we've had so far, so as not to disappoint the audience. And then it involves a lot more effort. It works, somehow, more. At least from my point of view, I have about three rehearsals a day with each group to be able to sing and maintain our vocal form.

The program includes creations by Vivaldi, Musicescu and Liszt. What challenges do these pieces propose from a conductor's point of view, from your perspective?
Apparently, their only connection would be the religious area, the Christian area. But, musically, they are different; it presents both the Gregorian style and the style… I do not mean Byzantine, because Musicescu's music is not Byzantine, it is a neoclassical bill, very common in our country. The difficulties are more in finding the most effective formula to use the whole choir, because we have all kinds of vocal typologies, individual qualities - some for one type of music, others for another kind of music. And to find that balance, here's the real challenge.

Finally, I would like to ask you, because we are in the vaccination campaign, if you personally consider that this can be a solution to return to a normal life of music?
I think it can be a comeback, a normalization of musical life through vaccination. Of course, no one can be forced to do it, but, according to my information, the participants in the Enescu Festival abroad conditioned that we, in our turn, be vaccinated. They have conditioned their participation with this and we must offer them that security that they ask for and have. But we will see until then how things are done and how things are done in other places as well. I also know from my information that the Bayreuth Festival will be held, it will be a premiere on this occasion through the presence of a conductor who will open the festival. So, the world is renewing itself and it has to be extremely flexible for the various challenges. What will be valid in other countries will be valid in our country as well.
Interview by Alexandra Scumpu
Translated by Călinescu Emilia-Georgiana,
University of Bucharest, Faculty of Foreign Languages and Literatures, MTTLC, year I
Corrected by Silvia Petrescu