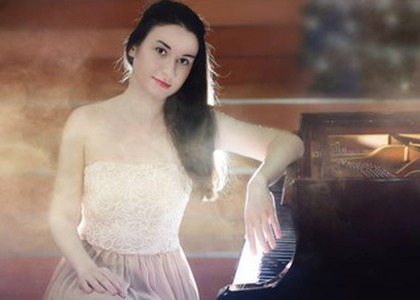 After more than a year she return to the country with a recital broadcasted by Radio România Muzical. The pianist Adela Liculescu in a dialogue with Gabriel Marica at Perpetuum Mobile
Monday, 5 April 2021 , ora 7.53

The guest of the week at Perpetuum Mobile is the pianist Adela Liculescu. I'm glad to hear you again, Adela!
I'm glad as well to hear and see you again. Thank you for the invitation!

Last time we spoke on the Radio RomâniaMuzical wavelength in September, last year, when the list of semifinalists of the "George Enescu" International Contest was published. At the piano section, a list with eight names, among which was yours too. The next phase will take place in May, at the Romanian Athenaeum. Do you feel ready?
I'd say I am, I do feel ready and I really hope the contest will take place and not be postponed again. But, of course, I'm very optimistic and I cannot wait and I hope to come back to Bucharest in May.

So you return to Romania after more than a year. In January 2020 you played for the last time for the audience from the Radio Hall "The Emperor" by Beethoven under the stick of TiberiuSoare, didn't you?
Yes, that's right. That was the last time when I was in Romania too. On the 15th of January 2020 I played the concert, on the 16th I took off for Vienne and since then I haven't come to the country, unfortunately. This way I'm even gladder that I will be able to play in the country, at Bucharest, as well as being able to see my family again after more than a year.

What have you been doing in the meantime? As far as I know, in 2021, you had more recorded recitals together with the violinist Ioana Cristina Goicea.
Yes, I had various recitals with her too. I also recorded something for a chamber music festival from America - Arizona Friends of Chamber Music Festival. I also recorded something for the Romanian Cultural Institute from Vienne with the occasion of the National Day of Culture, on the 15th of January. Actually, we've planned more projects together. We should've had some concerts in Germanywhich, unfortunately, have been delayed for now; let's hope that they will be rescheduled. But I had various recitals on my own too broadcasted during the pandemic. I had other projects of chamber music too, but yes, unfortunately, I haven't had a recital with an audience since September 2020.

Until the Enescu Contest, tomorrow you'll be concerting at the Romanian Youth Palace. Therefore, on the 1st of April, without being a joke, you'll hold a recital in the coquet hall beside the Izvor Bridge from Bucharest. Unfortunately, a recital without an audience, but which RomâniaMuzical will be broadcasting live. What will you perform?
I will play the Appassionata Sonata by Ludwig van Beethoven, and then the Piano Suite No. 2 in D major by George Enescu and the three moves for piano from the ballet "Petrușka" by Igor Stravinski.

You played the Appassionata Sonata, if I'm not mistaken, in the qualification phase of the "George Enescu" International Contest too.
Yes, it was the submission for the 2nd phase where I played the AppassionataSonata and a transcription by Liszt after Don Giovanni by Mozart. And the Suite by Enescu and Stravinski-Petrușka are part of my repertory for the semifinal of the contest. So, in a way, it's kind of a preparation for the contest.

You'll play without an audience, as I said. Could you please tell me how does the absolute silence of a virtual recital seem to you?
To be honest, I prefer to sing in front of the public because it's a whole other energy which you, as an artist, receive from the public when you get on stage and feel the applauses and warmth that they greet you with. To play like this in front of microphones and for an empty hall, I don't know… honestly, until now I didn't feel that inspired by this kind of atmosphere. I don't know what to say, but it's surely better than nothing. At least I know that on wavelength people will hear me, because I've already been called by all sorts of friends from all around the country to tell me: "I've heard about it already, it's been much promoted on radio. We'll be there to listen." I will try somehow to imagine that I'm singing the recital for those people. I hope to succeed in sending that energy, even if the hall will be empty.

You said in an interview that "2020 was a challenge, that you learnt how fragile the world is". You live and teach piano in Vienne. Tell me how the Viennese musical life is and how you've been adapting at the pandemic conditions.
Unfortunately, the Viennese musical life is much more quite than the Romanian one for now, because here we've been in cultural lockdown since the 1st of October - absolutely no event has been held, and since November we've been in total lockdown until February; not even the stores were open. Now they opened the stores at the middle of February, but there are still no concerts and, unfortunately, we don't have a perspective for when will that change. It has just been announced that we'll enter the fourth lockdown now, on Easter, and the stores will be closed again. I really hope that we'll be able to play again, at least in the summer, the way it was last year. But yes, of course I've been trying to make as many online recordings and concerts as possible, so I can keep at least that way in touch with the public. From what I see on Facebook and from my friends who are in Romania, there are currently events being held in Romania, which is hopeful.

Can you accumulate for your repertory works that you've been wishing to play, but that you didn't have time to prepare?
Yes, that was the idea. At the beginning of the lockdown, in last March, I set myself on learning a new repertory and I succeeded. And in April last year, when it was indeed all about staying home and a total break. After that, even if being in lockdown, I was pretty busy because in May last year I had my PhD admission exam at the University of Music from Graz, and I got in…

Congratulations!
Thank you. And starting with September I'm having my own piano class at a private music academy here, in Vienne. So I started teaching too. And even if everything was online, I still had classes weekly. Practically, my learning repertory project is represented by the two series of executive transcendental studies by Franz Liszt for now, because that's my PhD project too. At the end of the research I want to make a CD recording with all the studies. They're some extremely complex and technically difficult works. I really do need a lot of time to learn them. That's why all my learning time is invested in the respective works. But I can't say I'm bored. It's been a very soliciting period, with chamber music recordings and solo, so I had my fair share of change. I'm eager to be able to play again in concerts with public and travel, the way it was before. Let's hope everything will get back to normal.

Are artists supported by the Austrian government during these times?
Yes, they are. Of course, the condition is to be registered as artists. And practically, here, in Austria, there's a system with more than one national assurance and health service and the stipulation is to be registered at the national social service for independents, and then they receive an aid from the government.

Do you personally think that the vaccination is paving the way back to normality for the musical life?
Yes, absolutely! I for one already got my shot, because being among the didactic staff now at the respective music academy I could register. I receive my first dose of the vaccine in March and I will receive the second one in June. I've just received a couple of days ago a text with the date when I'm going for the second dose. I hope this will contribute to the coming back to normal as soon as possible.

Thinking of normality, Adela Liculescu, what will follow up the recital of tomorrow night in your activity?
I will return to Austria right away, because I came to Romania only for 72 hours, with this rule that allows me to enter the country without being quarantined. After that, I will have again various online projects. Here, in Vienne, as I said, I don't know when it's everything going back to normal. I should've had a concert in Vienne on the 20th of April; it's just been cancelled. I should've had a concert in Germany; it was cancelled two days ago. So, I don't know… the next project would be coming back to the country in May for the Enescu Contest, in the current conditions.

Adela Liculescu, I say to you welcome back to the country!
Glad to see you again!

I'm sure that the Radio RomâniaMuzical listeners will applaud you live listening your recital live. And more than that, I'm sure that there won't be just a few those who'll be supporting you at the semifinal of the "George Enescu" International Contest.
Thank you very much! I can't wait and I thank you for your invitation and support.
Interview by Gabriel Marica
Translated by Codescu Paula-Silvia,
University of Bucharest, Faculty of Foreign Languages and Literatures, MTTLC, year I
Corrected by Silvia Petrescu