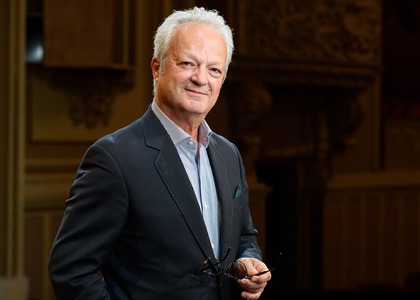 Interview with conductor Vlad Conta about the concert of the Radio Chamber Orchestra
Tuesday, 6 April 2021 , ora 15.10

Concerts without audience continue at the Radio Hall this week. The Radio Chamber Orchestra will perform on Wednesday, April 7th, with the violinist Gabriel Croitoru, and Vlad Conta will be at the rostrum. You will be able to watch the concert live on our station, on Wednesday, starting 7 pm.

Mr. Vlad Conta, you will conduct on Wednesday, April 7th, the concert given by the Radio Chamber Orchestra. How would you describe your collaboration with this ensemble?
I am very happy to meet again this week with the Radio Chamber Orchestra; I could tell my friends in the Radio Chamber Orchestra. We have known each other for many years, for more than 20 years and we have had beautiful collaborations. We made beautiful music together and I think we enjoy edeach other. There were many concerts, many recordings!

The soloist will be the violinist Gabriel Croitoru. Have you been on stage before in this formula?
Yes. Not at the Radio Chamber Orchestra, but of course we met before and we have an old friendship and a joy of making music together.

The program of the evening brings together three works - two from the sphere of classical music, composed by Haydn and Mozart, and one by the Romanian composer Constantin Silvestri. How did you compose the program?
On the principle of a contrast, like a good menu. Silvestri is a composer I have known since I was a teenager. I think I have all the pieces he wrote for piano and I also conducted most of the pieces for orchestra, in various formulas. I am very close to his music and I really enjoy these pieces for orchestra. I'm opposite 4, young Silvestri. The contrast of these pieces with what follows, with Haydn's Violin Concerto in C major, seems happy to me. I don't have to tell you much about the Symphony in G minor that ends the program. It is an absolute master piece, one of the most captivating pieces in Mozart's entire creation.

You told us about the contrast between the three works. Could you find a common element of them?
I could, but I don't know if it's exactly right. Excellent music, small band, a great mobility in Silvestri's songs, a very special flexibility and freshness.
Interview by Maria Isabela Nica
Translated by Crețu Elena,
University of Bucharest, Faculty of Foreign Languages and Literatures, MTTLC, year I
Corrected by Silvia Petrescu