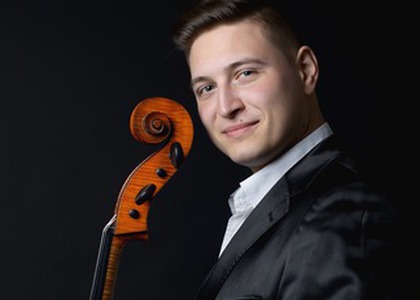 Ștefan Cazacu, the only Romanian cellist in the semifinals of the George Enescu International Competition - in dialogue with Gabriel Marica at Perpetuum Mobile
Friday, 16 April 2021 , ora 14.09

My guest tonight is cellist Ștefan Cazacu. Even if we hear each other on the phone, Ștefan, welcome with the listeners to Radio România Muzical!
Good to have you! Thank you very much for the invitation!

A little earlier I said that this happened to be a week of cellists on Radio România Muzical. I just announced the Friday concert of the National Radio Orchestra in which the soloist is Răzvan Suma. You will be live tomorrow at Radio România Muzical with your recital. But before we talk about your recital, because you know Răzvan Suma very well, don't you?, he was your teacher, I want you to invite the listeners to the concert on Friday in which Răzvan Suma will be the soloist Concert no. 4 by Joseph Haydn.
If the listeners want to hear a concert that they have never listened to before, I invite them and wish them a pleasant audition, because I am convinced that Razvan will make a wonderful impression and, if they listen live, they will have a much more pleasant emotional state.

Razvan Suma, your father - Marin Cazacu - and ReinhardLatzko are three names that I have noticed that in your interviews, you pronounce very often, because they are important to your career so far. Correctly?
Correctly. First of all, it was my father who developed my cello technique, and of course he was the one who gave me the first time to play the cello...

... And he's been patient with you, hasn't he?
He's had enormous patience. Followed by the patience of Razvan, who of course guided me more to the artistic side. And Mr. ReinhardLatzko from Vienna changed and deepened my technique. All three played a very important role in my development as a cellist.

You said in an interview that you entered the Enescu Competition without premeditation, about the last hundred meters, and now you are the only Romanian cellist in the semi-final that is announced for May at the Romanian Athenaeum - we hope, with the public. Do you feel ready?
Yes, of course! Once I put one thing in my head, I have to go all the way. Indeed, last year we didn't have the security, because before the pandemic started we had a pretty full agenda. As soon as the pandemic came, all the concerts failed, and that's what I think was the moment when I said I had to find a purpose, I had to study for something. I didn't expect to get this far, I tell you honestly, but I hope to make an even better impression!

We hope you win!
Let the Lord give! Thank you.

Tomorrow you will give a recital at the Palace "Youth Romanian", in the chic hall next to the Izvor Bridge in Bucharest. Is it some kind of rehearsal for the contest?
Rehearsal, recital… one more preparation. I rehearsed a lot for that program, but it won't be the only recital. I will want to go through the repertoire once more, even twice if I have time.

Tell us, before you hear yourself playing them here on Radio Romania Musical tomorrow, how do you see the two sonatas you're going to play? It's Enescu's Sonata No.2 and Sonata by Shostakovich.
They are extremely diverse and extremely beautiful at the same time. The Enescian world is fabulous! And once I've started to deepen Sonata II, I can tell you that I now look at music with other eyes. And I don't think there's much left to say about Shostakovich. This sonata is more youthful and I think it suits me quite a lot.

We must tell our listeners that, beyond your qualities, you are in possession of a special instrument; it's over a hundred years old. Is that the cello you received as a gift from your father when you turned 15?
It's not that cello anymore. We made a little trade. Indeed, I played for a very long time on that cello, but before the first stage of the competition - I think a month before - I went and sang to my father to tell me if it was okay to go to the competition. He said, "I can't leave you with your cello. Take mine and study on it and you'll play him in the contest." And today, I play on my father's cello.

Interesting! We're going to hear what Marin Cazacu's cello sounds like in his son's hands, right?
I hope you like it, yes!

Tomorrow you collaborate with two pianists - Andrei Licareț and Gabriel Gîțan. Why is that?
I had chosen Sonata de Șostakovici anyway, but for Enescu`s Sonata - I also spoke with Gabriel Gîțan - it is not easy to study, it is not studied in college, it is a piece of maturity and he confessed to me that it took him about a year to be able to prepare it. So it's not very easy. And so as not to make it difficult for the pianist, plus he knew Enescu's Sonata and didn't have time to do Shostakovich's Sonata, I opted for two pianists.

And in the contest, who will accompany you?
Both of them.

Your recital tomorrow will be broadcast live by Radio România Muzical, from 19.00. Unfortunately, you will not have an audience in the hall. Tell me, what is the feeling you experience in such an empty recital and how did you adapt to such situations? I guess you've been put in the same situation in the pandemic before.
Not only in a pandemic. It's not pleasant at all, but I try, especially if it's broadcast on the radio, I try to think that there's an audience behind the microphones. I try to feel their emotion, so that I can make quality music afterwards.

What do you miss the most, as an artist, during this period of restrictions?
Good question! If I think like that, you know I did the job, I didn't stay in vain! I miss the contact with the public, I miss the walks without measuring the time I have to go back… I miss the freedom a bit, to be honest. I miss freedom!

Recently, you also became a teacher at the "DinuLipatti" National College of Art. If I'm not mistaken, one of your students, Tudor Ioan, was selected to be a scholarship holder of the Young Talents Program of the Royal Margaret Foundation of Romania. How do you see yourself as a teacher?
I like! I will want to change a few things and I hope to continue on this path because young people need guidance. I am also a young man and I, in turn, want to pass on everything I have learned so far.

As a teacher, did you take anything from your father, knowing him as the founder of a cello school in Romania and one of your mentors?
Severity, correctness… anyway, he has a much wider experience. But, I will learn as much as possible from him so that I can teach further exactly or maybe close to his level.

After tomorrow's recital, broadcast live by Radio Romania Muzical, what's next in ȘtefanCazacu's activity apart from the Enescu Contest for which, let's say, will you warm up tomorrow night?
Probably two days off. After those two days of vacation, the students will follow, the students I have to listen to all the time, rehearsals and the only target would be the Enescu Contest. Until the Enescu Contest, I don't intend to play anywhere. Eventually, only the pieces for the contest.

Ștefan Cazacu, despite the fact that tomorrow you will have an empty hall in front of you, I am sure that the listeners of Radio Romania Muzical will applaud you. And more than that, there will be many who will be with you in the Enescu Contest. And, as I said earlier, I hope you win it!
Thank you. So be it, as you say!

We will end our discussion with a recording with the National Radio Orchestra conducted by CristianMandeal, performing a score that I know that your father, cellist Marin Cazacu, adapted, performed and performs with great pleasure. It is about Lensky's Aria from Tchaikovsky's Evgheni Oneghin. Do you like this score too?
At first, I didn't like it because I hadn't entered the world of opera. After listening to it and after I matured a little too… yes, I really like it today!

I wish you once again success at the Enescu Contest! Obviously, tomorrow evening we will be with you in the recital broadcast by Radio România Muzical from the "Romanian Youth" Palace.

Photo credit: Cristina Bobe
Interview by Gabriel Marica
Translated by Dărăban Denisa,
University of Bucharest, Faculty of Foreign Languages and Literatures, MTTLC, year I
Corrected by Silvia Petrescu