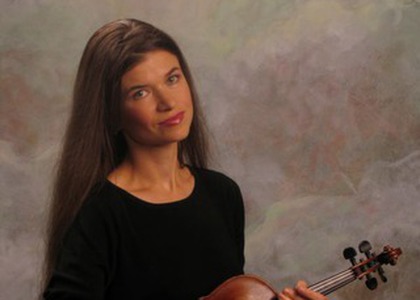 Interview with Diana Mos - rector of the National University of Music Bucharest, about the 2021 CHEI Festival
Tuesday, 20 April 2021 , ora 14.49

Between April 19th and 23rd, the 12th edition of the CHEI Festival organized by the National University of Music in Bucharest will take place online. The series includes a musicology symposium and concerts of classical music, jazz, electronic music and film music. The CHEI festival will be broadcast on the youtube platform Studio Spectacole UNMB.

This year's edition of the CHEI Festival comes after a year in which the festival did not take place due to the installation of the national quarantine. How has the structure of the festival adapted to the current times and how will this edition take place?
Last year, the pandemic took us all by surprise. The festival usually takes place in March-April, it was all too soon for us to react in time. In the meantime, after more than a year, we reevaluated ourselves and re-established our positions. I turned to technology. We have achieved a positive thing in all this unfortunate situation and we have equipped our institution with equipment to make these transmissions possible. Thus, in this edition, things will take place online and I hope it will be a successful adaptation.

What do you think will be the points of maximum interest of the festival now?
Of course, in this edition we tried to bring to the public those things that can be best presented in this formula. We started, and not by chance, with the Gala of Excellence, in which we will present the students whose merits have been recognized and rewarded by the National University of Music in Bucharest through scholarships of 5,000 lei each, just to show others that it is possible , that there are young people who have not been overwhelmed by this whole situation. For these young people we have all the consideration. They are both students at the Faculty of Music Performance and students at the Faculty of Composition, Musicology and Music Pedagogy. During this gala of excellence, videos are also presented in which everyone displays their strengths, whether they are performers, composers or musicologists. Of course, according to the times, the Student Symposium on Musicology can take place in optimal conditions and will be dedicated to anniversaries this year. I am sure that those who are interested will find many points of interest if they participate in this symposium coordinated by Mrs. Assoc. Irina Boga.
Also on the same evening, Tuesday, April 20th, FDI projects will be presented. The Ministry of Education has financed a series of projects aimed at institutional development. We took full advantage of this opportunity and the four winning projects of our University will be presented by their coordinators - Mr. Cezar Paul Bădescu, Mr. prof.univ.dr. Nicolae Gheorghita, Mr. prof.univ.dr. Mihai Cosma and scientific researcher Dr. Catalin Cretu.
Other points of interest will be the electronic music concert, the jazz concert and concerts of composition classes - both pop and film music, as well as classical composition.
What I think will be of maximum interest will be the round table on "Music in times of crisis". The moderator will be associate professor, PhD. and the conductor Tiberiu Soare, and the guests are famous, famous names of Romanian music - Horia Andreescu, Marin Cazacu, Mihai Constantinescu, Dan Dediu, Cristian Mandeal.
There will also be a film, "Fidelio is you", which was made in partnership with the Goethe Institute, through an AFCN project.
And finally, on Friday, April 23th, our festival will end with a prize-giving ceremony for national student competitions. These are the "Stefan Niculescu" Composition Contest, the "Alexandru Pașcanu" Music Theory Contest, the Musicology Contest and the Byzantine Music Interpretation Contest.
Interview by Maria-Isabela Nica
Translated by Dumitru Bianca,
University of Bucharest, Faculty of Foreign Languages and Literatures, MTTLC, year I
Corrected by Silvia Petrescu