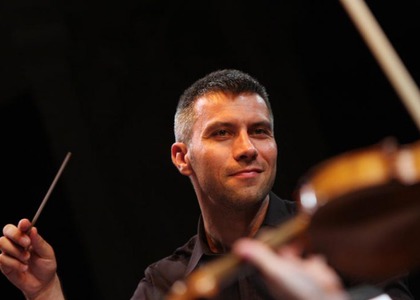 Conductor Tiberiu Soare, moderator of the round table on 'Music in times of crisis'
Monday, 26 April 2021 , ora 16.01

During the 12th edition of the CHEI Festival, a Round Table is scheduled for Thursday, April 22nd, starting at 11:00. Details about this event can be found from the second Guest of the Week in Perpetuum mobile - the conductor Tiberiu Soare, who will moderate the discussions at the National University of Music in Bucharest.
The round table with the topic "Music in times of crisis" will be organized tomorrow, from 11.00, at the National University of Music in Bucharest and can be watched on the youtube channel of UNMB. The event is part of the CHEI Festival, the 12th edition, which should have taken place last year, but due to pandemic restrictions has been postponed for this year. Who knows, maybe the CHEI Festival will go straight to XIV after that, avoiding XIII in American style.
Returning to our subject, music in times of crisis, it is very difficult to detach ourselves from the circumstance and to consider the different periods in the history of music that marked crises. We could even say, that if we look at least at the known history, in fact the crises constitute the rule, and the periods of relatively calm, of relative silence constitute the exceptions. I am now thinking of the last period of the Antonin dynasty, for example, which was considered a golden period. That was a relatively short time.Likewise, the short period of peace between the Napoleonic Wars, which ended, as we know, in 1815. This relatively long period of peace was interrupted in 1856, with the Crimean War, followed by the Great War in 1914. So we can speak of some periods of calm from the point of view of considering a crisis, but they are, unfortunately, rather an exception.It seems that in the history of humanity the crisis is, unfortunately, a rule. And then, music in times of crisis is an extremely broad topic, because we should talk about music of all ages. All epochs had their periods of crisis, all epochs had their turmoil, and music had to somehow find its way through all these trials.

We must also talk about the guests of this round table. I will ask you to nominate them!
The guests of this round table are personalities who do a lot of honor to the organizers. I am glad that the organizers of this round table managed to bring together such a sum of personalities. We are talking about the maestros Cristian Mandeal, Horia Andreescu, Marin Cazacu, Mr. Mihai Constantinescu - the director of Artexim, a very delicate position in these times, because as you well know Artexim is the governmental agency that organizes the International Festival "George Enescu" - and composer Dan Dediu. I say the composer Dan Dediu because he has a lot of titles - Dan Dediu is a musical personality which, certainly, I should not insist too much with presentations - but he will be present as a composer and, of course, as a composition teacher.
We are very interested in going through some ideas, some topics through which to relate volens-nolens to the past, to relate to what is happening today. I expect the discussions regarding the path of music and the possible paths it has to follow in the crisis we are going through to be quite interesting. And, of course, a look to the future.
Let's not forget that the maestro Marin Cazacu, the cellist Marin Cazacu is also the director of the "Romanian Youth" Center, not by chance, and one of the extremely important people in organizing the activity of different youth orchestras; there are youth orchestras in Romania on various age groups.
So, past-present-future, to stay in a quasi-Farfuridi language, by Caragiale, but that's about it to happen tomorrow. We try to figure out what the different responses of the art of music have been over the centuries to the challenges it has faced and what we can learn from it to get through the ordeal we are going through today.

You somehow anticipated the next question, which has two parts. One, what was the reaction of young musicians to this period of crisis? Because everyone, to some extent, works with young people. And ... can you come up with tips for them?
We will certainly discuss these issues as well. Everyone there is very concerned about this aspect. Regarding the reaction of young people, I expect Mr. Dan Dediu to have something important to say, because he has a small theory of different possible attitudes in times of crisis when you are a young musician, but I do not want to reveal much. We'll see tomorrow. If I could give advice… here I can only speak in my personal name and tell you that I find it very difficult to give advices.What I can do is to analyze together with those interested, with the students, with any young person interested in seeing what ways are available to go further, I am ready to analyze together with the young people all these aspects. I think the subject is very complicated. Imagine, I don't want to go into too much detail now, just in an interview, but there are things that need to be taken with a lot of discernment. And, in general, if you want, a piece of advice for young people is not to generalize in a hurry. This is a very big risk today. Due to the rapid flow and the very large amount of information, generalizations are a kind of athoughtdisease in the beginning of the century.
Interview by Lucian Haralambie
Translated by Dărăban Denisa,
University of Bucharest, Faculty of Foreign Languages and Literatures, MTTLC, year I
Corrected by Silvia Petrescu