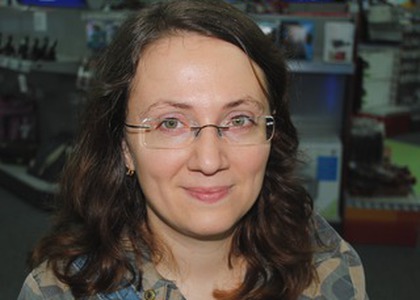 Interview with Ph.D. Associate Professor Florinela Popa, director of the Musicology and Educational Sciences Department at the National University of Music in Bucharest
Tuesday, 11 May 2021 , ora 15.08

Mihail Jora-composer, conductor, music critic and professor-died 50 years ago, on the 10th of May 1971 He was a founding member of the Romanian Composers Society and the first musical director of the Romanian Radio Broadcasting Company, creator of what is known today as the National Radio Orchestra of Romania.
Florica Jalbă discussed about Mihail Jora with Ph.D. Associate Professor Florinela Popa, director of the Musicology and Educational Sciences Department at the National University of Music in Bucharest, author of "Mihail Jora, a European modernism", released in 2009 at "Editura Muzicală" publishing house.

This year, we mark 50 years since the passing of Mihail Jora, and 150 years since his birth-two reasons for reopening the conversation about this musical personality who, alongside George Enescu, has dominated the Romanian musical sphere of the first half of the last century. As author of Mihail Jora's bibliography, how do you view his contribution to the Romanian and European musical creation? What about his input as a music critic and professor at the Conservatory of Bucharest?
His name is equally linked to a development of the Romanian music, a defining phenomenon for the inter-war era. Let's not forget that Jora stood out in the field of composition in the 1920s. He studied with Max Reger at the Leipzig Conservatory, which granted him a solid technique and harmony as a main means of expression. Of course, his studies at Leipzig were interrupted by the start of the first world war. Later on, he finished his musical formation in Paris, with Florent Schmitt, but what is more important about his composition is the fact that Jora wrote pieces specific to the European modernism.
He became known in the Romanian musical sphere in the 1920s. More notably, not only in the Romanian medium, but also in the western one. His ingenious sound created as a commentary to the European modernism is what drew attention to him at Vienna. Here I am talking about his opus number for piano "Joujoux pour Madame" written in1924, in which he imitated some well-known styles of the era-Stravinski, Debussy, Ravel, Bartok.
Jora gives a modern, even local touch to his music, conquering by far our prejudices related to the national specificity of our music. He abandoned the idyllic notion of folklore, that anachronistic romanticism of nationalism, instead choosing a more profound approach of the Romanian realities, especially in his first ballets and in some of his lieder. Jora was not the one to avoid exploring the Balkan style, the Bucharest's slums; of course, that was done in a matching aesthetic register, that of humour, of irony and of the picturesque, thus exposing himself to ruthless criticism. I would dare say that the ballet "La piață" form 1928 highlights this in a compelling way, this understanding of the aesthetic and of the musical language. For that matter, "La piață", with its scenic humour, close to Caragiale's in nature, remains, I believe, one of Jora's state-of-the-art pieces through its theme and sound, although he composed it more than nine decades ago. I also believe that giving it a contemporary set-up, adapted to our times would not deeply alter it at all. His favourite genres were the lieder and the ballets. Jora adapted them to the reality of Romanian music, and his predisposition to these two genres clearly shows a certain preference to communicating poetic text and the script, the story.
Jora did not overlook chamber music either. We know he wrote pieces for piano, he composed string quartets, symphonic and choral pieces as well.
About his music critic side... I have a comment to make here. It is interesting that Jora has been very active in promoting Romanian music, in its different forms-as a founding member and, at one point, as vice-president of the Romanian Composers Society; he was involved as a conductor, as the director of the Radio programs and, of course, as a music chronicler.
Even to this day, I recommend that our students read his chronicles. They are, on the one hand, an example of professionalism in terms of analysing music during those times (naturally, based on his musical expertise); on the other hand, they exude a sharpness and a sense of morality that, I believe, we all need in our time and days.
In terms of his academic activities, we know that Jora taught harmony and composition, and he was, at one point, rector of the Royal Academy of Music and Dramatic Art in Bucharest. We could say that he is the one who founded a stable Romanian school of composition. Surely that, to some extent, he reproduced the model of his professor in Leipzig, Max Reger. He followed similar notions as Reger when teaching composition, especially about teaching harmony following the German design. We know that he was a very strict professor and he contributed to the musical development of many composers. Let's not forget he was the one who tutored Paul Constantinescu, Silvestri, Lipatti. Not only them, but also later generations... Those of Dan Constantinescu, Nicolae Coman, Osanitzky, and others.

Now, 50 years from his passing, how should we remember Mihail Jora? And which ones do you consider to be the compositions that passed the test of time?
There are some pieces that definitely passed the test of time. The ballet "La piață" comes to mind, as I mentioned before. I am thinking of a series of lieder on verses written by Mariana Dumitrescu, Arghezi, Blaga... They have a very personal touch. There is also "Joujoux pour Madame" for piano. A real gem. Of course there are more... The variations for piano on a theme written by Schumann, for example, from 1943. There are works of Jora's that deserve to be listened to even today. But, apart from that, I think we need to remember Jora as someone who promoted Romanian music, as a model of morality and of real implication in the Romanian music industry.
Interview by Florica Jalbă
Translated by Ioana Grigoruță,
University of Bucharest, Faculty of Foreign Languages and Literatures, MTTLC, year I
Corrected by Silvia Petrescu