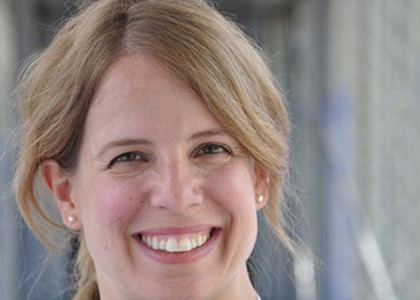 Interview with Pascale Labrie, Head of Music EBU
Wednesday, 12 May 2021 , ora 16.14

An online dialogue published on April 22th had as a guest the coordinator of musical activities within the European Broadcasting Union. The conversation aimed to present a recently published volume dedicated to making classical music known: Year of Wonder by Clemency Burton Hill. However, this topic opened the door to a larger vision on the need for classical music in modern society, as well as the important part played especially by public radio in European countries of educating the public about cultured music.

Why do we need classical music? Why is classical music important to our society?
Sure, first of all I have been passionate about it since I was young. It played a big part in my life. Here are my personal connections with it. In a larger sense, classical music has played a big role in various worlds. It is practically infinite. A lifetime is not enough to listen to every song and find out all of the stories related to it. Classical music opens pathways to so many different things. Here is my composer, for example, Tan Dun, ambassador of kindness, in a multicultural dialogue. Therefore, classical music tells us about so many things, through itself or through the stories connected to it.
Of course, nowadays' musicians are very important and I think they play a big part in society. We can observe them, see what they do, their stories are very valuable, as the ones before them were.
As far as classical music and radio are concerned, I think it depends on where you live. I was born in a town where there weren't a lot of musical institutions. The only source of live classical music was the radio. Precisely, the public radio in Canada. Of course, if you live in a city like Bucharest, London or Paris, the situation is different. But the role of radio, especially public radio, remains, as you can see, very important. All radio producers and hosts have the role of guiding you in this wonderful world, especially if you don't know much about it. Radio offers content for everyone. We live in an online world, where is a huge amount of content, and the duty of radio is to select and guide you in this universe among what each country has to offer. This is exactly what we do within the European Broadcasting Union. We bring forward this intercultural dialogue through concert exchanges. For us it is a daily reward to see how public radios can find and offer to their audience what Europe has best to offer, and even beyond Europe.

How do you see Radio Romania Muzical in this concert of European public broadcasting?
Firstly I would talk about innovation. It is the first time when I take part in such a dialogue held by a radio station. Then, as you may know, Radio România Muzical is the number one European station that broadcasts live concerts taken over from the European Broadcasting Union. Every time we have live concerts we know that they will be taken over to Radio România Muzical and that you want to be connected with other public radios. This connection is very important because we feel it in everything you do. I think it is fantastic for your audience that you offer them the chance to listen live to real-time events that take place in Europe. If I was part of your audience, I would be very happy to see how you work and what you offer.
Interview by Cristina Comandașu
Translated by Zofotă Andreea,
University of Bucharest, Faculty of Foreign Languages and Literatures, MTTLC, year I
Corrected by Silvia Petrescu