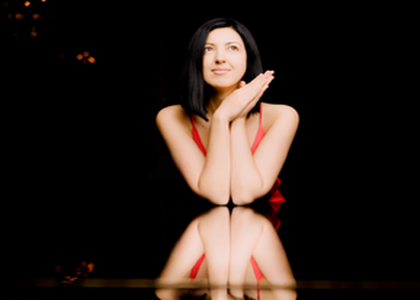 Interview with pianist Alexandra Dariescu
Monday, 17 May 2021 , ora 9.19

Concert no.5 The Imperial by Ludwig van Beethoven will be heard on May 19th and 20th in the performance of pianist Alexandra Dariescu, during two public events that will take place in Great Britain. The pianist will also be present at the 2021 edition of the "George Enescu" Festival with the Basel Chamber Orchestra.

Alexandra Dariescu, we know that on April 28th, the recording of the concert at the Royal Festival Hall held in March, where you performed Ravel's Concerto in G major, was broadcast online. You performed the same work at the 2019 edition of the Enescu Festival. How do you describe the two experiences in terms of the same musical work?
It was a very different experience at the "George Enescu" Festival due to the audience. For every artist, the audience is like air, the audience gives us life, and this concert in London was absolutely empty. Due to the restrictions, we were not allowed to have anyone in public at all. But that joy that I really can't describe in words, to perform again, because it was my first concert this year, to meet musicians, to sing together, to be inspired… Indeed, this concert it gave me life. And, of course, it was absolutely wonderful to collaborate again with the London Philharmonic Orchestra, an orchestra I played with at the Royal Festival Hall 5 years ago. The conductor I collaborated with this time, Fabien Gabel, is a very good friend and an extraordinary stage colleague with whom we traveled a lot, we sang together many times and it was, in fact, a celebration on stage.

Despite the difficult period that inevitably affected the musical life, you managed to keep your agenda active, as you are used to, and two events are coming soon. On May 19th, you will perform with the Royal Philharmonic Orchestra at Cadogan Hall, one of the first concerts in the UK to be with the public. How do you see the return to the stage in front of the listeners, live?
The joy to have live music is even greater and this concert gives us a lot of hope. In the UK, the vaccination program is very advanced. More than half of the population, over 35 million people have been vaccinated, so the restrictions are eased a little. And the fact that we are allowed to have an audience again gives us enormous hope and we believe that we will return to some normalcy. Of course, this is not the whole normalcy; we understood that the hall will be open only for 20-25% of the capacity, but for us, the artists, it is the greatest joy to have someone there, who applauds us and who is with us in this experience. Because attending a concert is an experience on both sides - one from the audience, and another from the artists on stage.
I can't wait! I will perform Beethoven's Concerto No. 5, The Imperial, of course, with my friends from the Royal Philharmonic Orchestra, with whom I have traveled all over the world - I have probably performed most with this orchestra and recorded the Tchaikovsky Concerto together. I am very happy and I can't wait to see the audience again!

A concert held at the Bath Festival follows on May 20th, also with Beethoven on the program, more precisely the Concert no. 5 Imperialul. Is this your first time performing with Bath Philharmonia?
No. I have performed many times with them and with conductor Jason Thornton. I think I first collaborated 10 years ago and I always came back. The artists in the orchestra are extraordinary, we are friends and, of course, the city is extraordinary. This concert is part of the great Bath Festival, which has literature, theater and not only classical music, so it will indeed be a celebration for the city of Bath and I am very happy to have these two concerts coming one after the other. another. I don't know, like, it's like we're back to normal. Things are moving, we try to bring as much joy and hope as possible to the public and we have our whole hearts open so that by autumn we will be able to have the halls fuller than a quarter, as it is at the moment.

Finally, what musical plans does pianist Alexandra Dariescu have for the near future?
There are many plans. Now there are still a lot of cancellations and program changes from one week to the next, but what we have learned a lot in this pandemic is that we need to cultivate resilience and have a positive attitude, we try to create as many things as possible. During this period it was great for me to have time to think, to research, but also very, very much to study and I am very happy, starting with August, to have more performances, more concerts and, of course, I can't wait to come to the "George Enescu" Festival, where I will perform Clara Schumann's Concert with the Basel Chamber Orchestra and conductor Adam Fischer. And from there it is a very busy schedule, but I sincerely hope that we can reach all these concerts, because, with so many restrictions, it is very difficult for us to say that it will be something absolutely certain. But, hopefully, I am very happy that I will give the German and American premiere, in September and October, of the George Enescu Concerto - a work that has only been sung in Romania once, but which I am glad I will makes it known all over the world. Now we have performances in Germany and America, and I will share this concert with Clara Schumann, because both composers wrote those concerts at the age of 16. Many conductors and orchestras have embraced this idea and want to promote it as much as possible.
Interview by Maria-Isabela Nica
Translated by Crețu Elena,
University of Bucharest, Faculty of Foreign Languages and Literatures, MTTLC, year I
Corrected by Silvia Petrescu