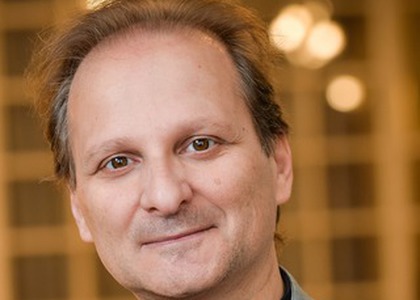 Interview with conductor David Crescenzi
Monday, 24 May 2021 , ora 14.08

The ongoing season at the Radio Hall features a new concert in the evening of the 21st of May 2021 that will be live broadcast on the frequencies of Radio Romania Muzical. For further information on the event, go over the interview we have made with conductor David Crescenzi who will be conducting the National Radio Orchestra.

This Friday, the 21st of May 2021, you will be conducting at the Radio Hall in a concert with the National Radio Orchestra. What are your thoughts on the event?
Each invitation I get from the Radio Hall makes me happy. I last conducted the National RadioOrchestra here in February, but then I returned with the National Chamber Orchestra in March. The fact that I am invited to conduct here two or three times a year gives me great pleasure. I'm also honoured because I think the National Radio Orchestra is, without a doubt, the best in the country.

You will be performing alongside maestro Gabriel Croitoru as the violin soloist in the Camille Saint-Saens Violin Concerto No. 3 in B Minor. What can you tell us about your collaboration with him?
Up to now, we have performed together three times at the Radio Hall, but with the George EnescuPhilharmonic Orchestra our collaboration history amounts to 45 years. I think of Gabriel Croitoru as being one of the best violin soloists in the country, alongside Alexandru Tomescu, and Liviu Prunaru, all of them celebrated musicians and amazing people. With Gabriel Croitoru I recorded the Paganini Violin Concerto, as well as Mendelssohn Violin Concerto. However, it's going to be my first time conducting the Camille Saint-Saens Violin Concerto.

The concert closes with Georges Bizet Symphony in D Major. How did youmake the choice?
All the credit for the chosen programme goes to the Secretarial Department - they have indeed done an excellent job by selecting this French theme.
Interview by Larisa Scumpu
Translated by Elena Florea,
University of Bucharest, Faculty of Foreign Languages and Literatures, MTTLC, year I
Corrected by Silvia Petrescu