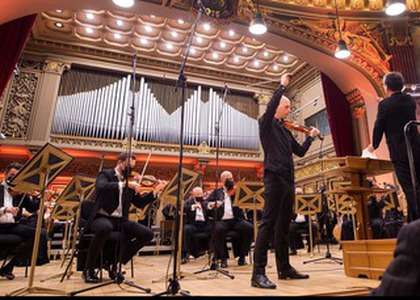 Interview with violinist Valentin Serban, winner of the Enescu 2020-2021 Competition
Monday, 24 May 2021 , ora 14.14

The final of the George Enescu International Competition, 2020-2021 edition, violin section took place on May 19th. A final in which three violinists from Romania, Germany and South Korea played, at the end of which Valentin Șerban was designated the winner, representing Romania, who performed the Concerto op. 47 in D minor by Jean Sibelius.
An interview conducted immediately after the announcement of the results of the contest.

Valentin Șerban, of course we are very happy for the fact that, although a minority in the three finals, the Romanians have at least one Enescu contest winner, in the 2020-2021 edition, one of the strangest editions so far, hybrid edition , partly online, partly live. How was this final?
The contest was definitely atypical. The first stages being online, they did not necessarily feel like a contest. It was like two preselections, so to speak. But, really, the contest, I can say, has started now, in the semifinals.

How did you feel on the Athenaeum stage tonight? Do you feel, for example, the presence of the jury? Is there pressure from this point of view?
It sure is. It's not exactly a normal concert, but I can't say that I felt the presence of the jury so much, I just felt overwhelmed by emotions, in general.

It didn't feel at all. It seemed to me that you were the most present of all three finalists. What helped you get into this state?
I do not know. I don't think there's a recipe. There are moments and moments and now let me say it was a good one. I looked for many solutions and it may be a good feeling, it may not be. It is not a rule.

Why this Jean Sibelius concert? What made you opt for Sibelius, the most modern of the works chosen by the three finalists?
I don't know if I necessarily had a reasoning. I like it very much, it is on my soul, it is an absolutely tragic work. The end, as tragic as the first two parts are, as crazy, I can say, is the end.

You sang in the semifinals the second Sonata.
Yes, I sang Sonata II in the semifinals.

How do you see George Enescu at the moment? We know that he needs promotion, he always sings quite rarely. Will you continue to plead his case? Are you approaching other works?
I think that Enescu still remains an incomprehensible genius. It was in his day and it is still. It's very special. He developed very young. He wrote the 2nd Sonata at the age of 18, which is fabulous for a maturity that some composers can't find for a lifetime. Of course I will continue to sing. Unfortunately, he doesn't have much work. He has two sonatas that are sung 2nd and 3rd and Sonata 1, which is very early and not exactly Enescu, but there are also impressions. That's all I can say, for whatever occasion I have, I will definitely sing.

You are the oldest of the three finalists. Is this your last contest?
Yes. Although I decided not to go to competitions, several years ago, but this is exactly why I participated now, due to the age limit, I said that it is the last opportunity, I have nothing to lose.

What's next on your agenda? What do you open to this success? Do you already know something concrete?
Not. I still don't know exactly how it will manifest, but there will certainly be many opportunities.

Are you settled in Brasov? What is the basis of your operations?
Let's say I have two. I have Brașov and Bucharest and depending on where I have more work, I stay.

When can we listen to you next time in public?
I tell you honestly that I don't know, I really don't know the calendar now and I think I don't have any concert scheduled in the near future.

We will be with you anyway and congratulations again for tonight's success.
Thanks a lot.
Interview by Ștefan Costache
Translated by Alma Teodora Miron,
University of Bucharest, Faculty of Foreign Languages and Literatures, MTTLC, year I
Corrected by Silvia Petrescu