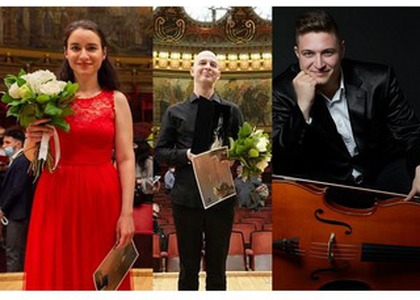 The trio of Romanian laureates of the George Enescu International Competition at Perpetuum Mobile in dialogue with Gabriel Marica: pianist Adela Liculescu, violinist Valentin Serban and cellist Stefan Cazacu
Friday, 28 May 2021 , ora 15.22

Today I have three guests, at Perpetuum Mobile, none other than the Romanian laureates of the "George Enescu" International Competition.

Adela Liculescu - Second Prize in the Piano Section. Goodevening, Adela!
Good evening. Thank you for having me.

Valentin Șerban - First Prize in theViolin Section. Good evening, Valentin!
Good evening, it is good to see you!

And, last but not least, Ștefan Cazacu - 3rd Prize in the Cello Section. Good luck, Ștefan!
Good evening! I'm glad to hear from you again.

I want to congratulate you for your artistic presence in the competition. And, of course, I agree with the listeners of Radio România Muzical when they say that you made us proud that you are our compatriots. For many years, Romania has not had winners at the Enescu International Competition in all interpretation sections.

Now I want to ask you what the contest was like and how did you feel in these higher stages of the competition, when you were finally able to perform to an audience in the hall?
Adela Liculescu:I was very happy to perform for an audience in the first place, because here in Vienna, where I live, we have been in continuous lockdown since October until now, on May 19th, when I really came to Bucharest. So I haven't had a chance to perform for people in a long time. It was a double joy - and to come home, to play for the Romanian audience, but also to perform for an audience. Of course, the Enescu Contest has a very long tradition and it honored me that I reached the final and that I won the Second Prize.

Valentin Șerban, did you feel encouraged by the public?
Surely. And besides that, I think we all felt a special intensity and the total lack of concerts in some periods, but I think especially after the experience with empty halls that sometimes, although you perform for an "online" audience, can be a very unwelcoming space; seeing the hall in front of you, a hall that has may be three or four hundred seats or more, seeing it empty, like that. Or, this probably helped us to intensify everything related to the contact with the public.

Ștefan Cazacu, how was this experience for you?
The experience for cellists was a totally special one, because we had not yet let the audience in the hall, and I had to enter the competition at 9.00. I think the hardest part was waking up at that hour and being 100% capable. But the contest itself was full of emotion and full of strong "emotions."

Now, a few days after the end of the contest, how do you feel about your success?
Adela Liculescu: It is a great honor to get this far, so far to the Enescu Contest. For me, the Enescu Contest is a contest with a great tradition and, somehow, since I was in high school I was watching and it seemed to me that great pianists from all over the world come to compete here and I watched with great interest. The fact that I have now come to participate and reach the final certainly honors me and makes me very happy.

Valentin Șerban, you are the big winner of theViolin Section. How are you feeling now?
I must admit that I do not know exactly how long the acceptance period will last. I mean, I know what I'm hearing, but I still don't realize it. It's an overwhelming, absolutely honorable feeling. I am sure that it is some thing absolutely special for all three of us, because now we are somehow part of history, of a glorious history, of the tradition of the Enescu Contest. As the saying goes ... we have big shoes to fill. But, yes, it's a beautiful feeling. I, at least, am very happy!

Ștefan Cazacu, your frank impressions, let's say, what are they?
I'm glad and I'm not glad it's over, but it's good to look to the future. Whatever happened, happened. The memories remain. Sure, we all need to remember, in 10-15 years, that all three of us participated and we managed to rank in the top three, each on his own instrument, but I think this should be a start for a more ambitious big. I mean, let's not stop now, because we have life ahead of us.

I'm sure you won't stop! I'm sure you've also analyzed your interpretations. If you could, what would you change? What would you add to what happened in your artistic performance in the final?
Adela Liculescu: I know that I did everything I could, everything I knew better and, according to my taste and after I learned to do it, I say that I play very well. Now, of course, the jury's decision is thejury's decision and we respect it, but of course at this international level, already from the first stages, but especially those who reach the semi finals, in the final - these stages so advanced - of course they are all extraordinary artists, with a very well-defined personality. Awards, after all, are a very subjective and tasteful matter. Of course, we are very happy when we receive an award, but even if we do not receive it, it does not mean that we are less valuable artists. I know that I will continue in this line that I promoted at the competition, to play extremely expressively, and I will do, as Ștefan says, further contests, concerts ... I have enough future plans and we move forward with all the sails up.

Surely! I wish you a lot of success in the future!
Thank you.

Ștefan Cazacu, as far as you are concerned, would you add anything?
I didn't look at it as a contest ... the final, at least. Because, being with an audience, I thought it was a concert and I'm there to perform for that audience, not necessarily for the jury - to perform for myself and the audience. Of course, no concert will be the same twice. If I had to perform next week, I would do it differently. It depends on the emotions, it depends on how I feel at that moment.

Valentin Șerban, you are the winner of the 1st Prize. Would you add anything to the performance in the contest?
Oh, yes, sure. I admit, I didn't have the courage to listen to the recording because I wanted to enjoy the success as much as possible. Or, the moment I listen to it, all that analysis I think takes a lot of the joy. But, as Adela said, I did everything possible at that time. From now on, we try to solve, as we have done so far, the problems we have or believe we have, we try to move forward, to make progress and to be as happy as possible.

Oh, really! What perspectives do you think open these awards obtained at the Enescu Contest in your career?
Adela Liculescu:Of course, I hope to perform even more often in Romania. I already had the joy and honor of being invited quite a bit to perform in Romania, but of course I hope to return home all the more often. I don't know to what extent this competition offers perspectives abroad, but I would certainly be happy and I hope to have the ocasion to receive opportunities through this competition.

Ștefan Cazacu: For me, concerts, recitals ... would be wonderful. I think that's what the contest offers the most. Of course, and friendships, because we, the competitors, became friends behind the curtain. In principle, a career in Romania, a very good career to hope for.

Valentin Șerban: I think the beginning, at least, is promising. There are already a few concerts coming after the award; a concert at the Enescu Festival now, in August, and next in October, at the Musikverein (in Vienna). But what is long-term remains to be seen. Certainly, there will be changes and I hope, for me at least, that I will not have to pray in different places to be able to perform.

A pianist, a violinist and a cellist. I, personally, see a trio of Romanian laureates of the Enescu Contest on a stage in Romania or abroad, in a concert that can end, say, with the Triple Concert by Beethoven, for example. How about this idea?

Adela Liculescu: Well it would be very nice! I, for one, would be happy, especially since so far I have not had the opportunity toc ollaborate with either Ștefan or Valentin on any stage, so it would be a triple premiere. We would all be happy, I hope!

Valentin Șerban, what do you say about this idea?
Of course. It sounds great! And it will definitely happen at some point. Why not!? That should happen even if we weren't rewarded

Of course, but in this context there is an additional reason.

Ștefan Cazacu, what do you say about this?
I would love to! And when it comes to Beethoven, the Triple Concerto, I'll never say no.

My dear ones, thank you for being on the show! Once again, congratulations on your performance! I wish you success and we are looking forward to seeing you on the Romanian concert stage as soon as possible. I think the audience can't wait to applaud you.
Interview by Gabriel Marica
Translated by Alma Teodora Miron,
University of Bucharest, Faculty of Foreign Languages and Literatures, MTTLC, year I
Corrected by Silvia Petrescu