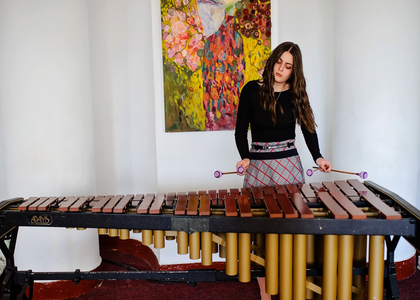 Interview with percussionist Sara Gheorghe
Thursday, 3 June 2021 , ora 17.25

Percussionist Sara Gheorghe is one of the musicians awarded this year by the project Musical Romania's Heirs, organized by Radio România Muzical and Rotary Club Pipera. Taking into account the encouragement of as many Romanian talents as possible, and taking into account the high professional level of the young musicians present in this year's competition, the jury decided to award benefits to several musicians.

Sara Gheorghe, you applied this year for the "Musical Romania's Heirs" Scholarship. How would you describe this experience and the project organized by Radio Romania Muzical and Rotary Club Pipera?
I, in Arad, am an honorary member of the Rotary Club. They have always supported me. I have also played at various concerts organised by them, most of them for charity, and that's how I found out about this scholarship. They told me it would be very good to apply because we discussed how expensive it is to study in Vienna.And since I'm already there and that's where I want to go next - it's a great experience, it's just not that easy financially - they recommended that I apply here, saying that they were part of the project too. I felt it would help me a lot in my development as a musician.
The field I'm in, percussion, is a pretty complex field. With us having so many instruments that we need to know how to play, it is very important for me to have very good teachers for each branch of percussion. And this I felt is only possible in Vienna, where we have such good teachers, like Emiko Uchiyama, who is a marimba teacher at MDV University. And Anton Mittermayr is also a professor at MDV and a member of the Vienna Philharmonic Orchestra.

The jury decided for the 2021 edition to encourage as many Romanian talents as possible, giving them the opportunity to perform concerts with the Radio Chamber Orchestra or the Philharmonic Orchestra of Brasov. We know that you are one of these musicians. What do you consider to be the strengths that recommended you for this award?
I think that over the years, since I was 14 years old, since I started to play, I have had opportunities to play at different concerts in Arad or nationally or internationally. I am also part of the Romanian Youth Orchestra and I performed with them, of course, before the pandemic started. I am also part of the Youth Orchestra of Moldova, with whom I also participated in the Young Euroclassics Festival in Berlin.There I played with maestro Gabriel Bebeșelea and represented Romania - the percussion team consisted only of Romanians. Also, together with the Arad Philharmonic we performed internationally in Budapest, through the Romanian Cultural Institute; and in Prague. Also, besides all these concerts, I have done and continue to do volunteer work because it is something I am passionate about and I believe that what I receive I must also give back, because this is the only way we can create a balance. On a radio station in Arad I had a show about music for more than a year.
Interview by Maria-Isabela Nica
Translated by Dărăban Denisa,
University of Bucharest, Faculty of Foreign Languages and Literatures, MTTLC, year I
Corrected by Silvia Petrescu