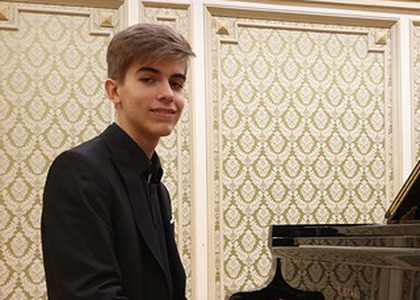 Interview with the pianist Dominik Ilisz
Tuesday, 8 June 2021 , ora 15.05

Currently a student to Nagyváradi Mûvészeti Líceum, the pianist Dominik Ilisz is among the winners of the second edition of the competition for "Musical Romania's Heirs"Scholarship. The project is developed by Radio România Muzical, in partnership with Rotary Club Pipera. As part of the award, Dominik Ilisz will give two concerts next season with the Radio Chamber Orchestra and the Brașov Philarmonic Orchestra. Also, the young pianist received a SoNoRo Interferences scolarhip from the SoNoRo festivals.

Wefind out more details about participating in the contest from Dominik Ilisz:

Dominik Ilisz, you have already been awarded several times, to a series of international competitions. Also, the audience in Bucharest had the opportunity to listen to you one year ago, in a recital during the Tuesday Evening Season at the Small Hall of the Romanian Athenaeum. Why did you participate in the "Musical Romania's Heirs" Scholarship?
It's an honour and I am extremely grateful that I was noticed in the project. It is a dream come true that I unexpectedly was invited to have a concert witht he Radio Chamber Orchestra and the Brașov Philarmonic Orchestra. It is a great chance for a junior artist to receivei nvitations to perform on the important stages of the country.
I didn't have much hope, since thes colarshipis targeted at young musicians aged 16 to 24, and I didn't stand many chances. But it was worth the try!
I found out last year, from the Radio România Muzical website, and this year I am among the lucky winners.

Why did you think you didn't stand many chances?
Because I am only 17 years old... I didn't think it possible...

Participating to this competition also required writing a project. What project did you have?
I would have liked to win a new instrument. However, I am very happy that I won the concerts.

And not only the concerts with the two major orchestras, but also a SoNoRo Interferences scholarship. How do you see the importance of these awards in your professional development?
I am very happy and honoured that I won the awards. It is very difficult. Most of the competitions took place online and, unfortunatelly, even the instrument practice is almost impossible to study online. On the other hand, it was also a good thing that I had much more time for study and I was able to enter numerous online competitions, and got very good results.
Interview by Florica Jalbã
Translated by Anca Ilie,
University of Bucharest, Faculty of Foreign Languages and Literatures, MTTLC, year 1
Corrected by Silvia Petrescu