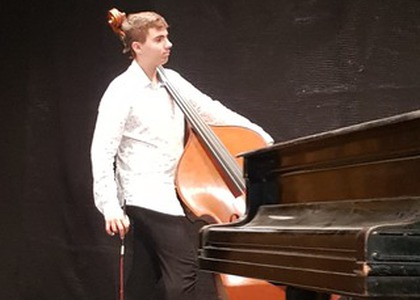 Interview with the bassist Radu Tudorache
Tuesday, 8 June 2021 , ora 15.07

Tuesday's season from the Romanian Athenaeum is proposing tomorrow evening, June 8th, 2021, a new performance held in front of the audience, backed by the bassist Radu Tudorache. Currently a student in the 10th grade at the Dinu Lipatti National College of Arts, in the class of Professor Săndel Smărăndescu, the musician gave us more details in the following interview:

You are the lead singer of tomorrow's performance, enrolled in the framework of Tuesday Night Season at the Romanian Athenaeum. How did you feel about the invitation to sing in front of the audience after such a long period in which public events were not possible?
The invitation came from Cristina Sârbu, who talked to my instrument teacher, Săndel Smărăndescu, and decided that it would be great to offer the public a bass recital, especially as this rarely happens in Romania. On a personal note, I continued my training in a very constant way, and therefore, the fact that the musical events were suspended didn't directly affect me.

The program comprises a variety of styles - from creations of baroque music to Romanian music. How did you choose the works? Is there an element that brings them together?
May I tell you that my instrument teacher chose the whole program out of the desire to make me deepen these musical works, which cover a wide variety of styles and different periods of creation? To my mind, I think that every instrumentalist must know all these differences in style, and in terms of Romanian folk music, I very much want to make it known by using the double bass.
I will begin the recital with Elegia in D minor for double bass by Giovanni Bottesini, then Sonata in A minor by Henry Eccles, Concerto in A major for double bass by DomenicoDragonetti, Scherzo in D major by Daniel Van Goens, Valse-Miniature by Serge Koussevitzky, Sonata no. 1 for double bass by Adolf Misek ... and I will end the recital with Peasant Dance by Constantin Dimitrescu.

How is the cooperation with the pianist Andrei StephanRacu, the one who will accompany you during the recital? Is this your first time on stage in this formula?
Yes, this is the first time I am on stage with professor Andrei Stephan Racu and I consider myself lucky to have the chance to create music with him. I take this opportunity to thank him!
Interview by Alexandra Scumpu
Translated by Kazemi Zahra,
University of Bucharest, Faculty of Foreign Languages and Literatures, MTTLC, year I
Corrected by Silvia Petrescu