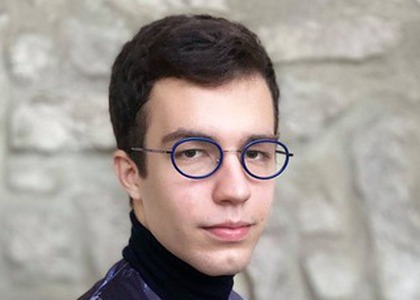 Interview with pianist Ștefan Vârtejaru
Friday, 11 June 2021 , ora 8.29

Pianist Ștefan Vârtejaru is one of the awarded musicians in the 2021 edition of the Musical Romania's Heirs project. He will get the opportunity to record a Romanian repertoire in the Radio Romania Studios.

Ștefan Vârtejaru, you are one of the winners of Musical Romania's Heirs, a competition for the young Romanian musicians which has been taking place since 2018. How did you find out about the project and what persuaded you to sign up?
I have been working on my project for the promotion of Romanian music, ROvival for several months already, and I felt that the Musical Romania's Heirs scholarship would be a great chance to help me implement it. I found out about the competition from a Facebook post made by Radio Romania Musical, I checked it out, I looked at the conditions of participation, I prepared my file immediately and submitted it. I thought it was a wonderful chance to participate.

How would you describe the project organized by Radio Romania Musical and Rotary Club Pipera?
I think it is an amazing project and I was happy to find out about it. I find it remarkable that Radio Romania Musical and Rotary Club Pipera support young musicians. Ever since the Renaissance period there existed various Maecenas or institutions that supported the arts, so it is wonderful that someone gives us a kickstart in the beginning of our careers before we turn 24.

Ștefan Vârtejaru, you are one of the winners of this year's edition. We know you will have the occasion to record a Romanian repertoire in the Radio Romania studios, and thus to put into practice your project related to the interpretation and promotion of Romanian music. What are the works you will be recording?
I thought of including three works different in terms of style, which represent several currents of Romanian music. First of all, there will be the Choral Prelude Toccata by Toduță, a neoclassical work with folk influences. The second one will be Variations on a theme by Schumann Op. 22 by Mihal Jora, and I am delighted to record a work by Jora in the Radio studios. It's a neoclassical work with post-romantic influences. Finally, from the field of musical expressionism, Desert Songs by Constantin Silvestri.

Could you give us more details about your ROvival project?
First, the name ROvival comes from the English word "revival'', to which I added '"ro" because we are talking about Romanian music. The project primarily takes place on youtube. I created a youtube channel where I will post explanatory videos about relevant composers and their works every month, or more often now, during summer. I have already posted the first video. It was about Sigismund Toduță and the Prelude-Choral-Toccata and Passacaglia, two of his representative pieces for piano. Furthermore, there is also a Facebook page and an Instagram page on which I will post information about Romanian music. I have already spoken to my colleagues from the Paris Conservatory and they were excited to learn the Romanian repertoire and participate in this project. Basically, the project aims to promote Romanian music from an objective perspective and to use the online environment to make music reach as many people as possible, because I feel that the Romanian musical heritage is valuable, and it is my passion to present it to a public as wide as possible.

Lastly, do you believe that projects such as Musical Romania's Heirs can have a significant influence on the development of young musicians?
Definitely. It is first a vote of confidence for us, the fact that I saw the other names and I was glad to see wonderful musicians who won awards. Then, it is something that influences the development of the Romanian musical world, because there is an interest outside the musical sphere, and outside the institutions that strictly deal with the music area. There is this concern to support us and the culture, which I think is absolutely admirable.
Interview by Maria-Isabela Nica
Translated by Lica Alexandra,
University of Bucharest, Faculty of Foreign Languages and Literatures, MTTLC, year I
Corrected by Silvia Petrescu