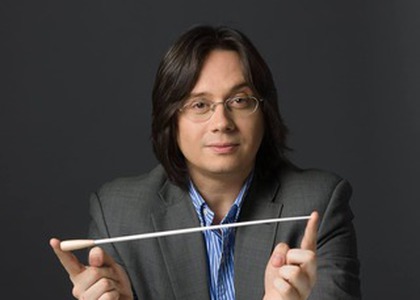 Interview with conductor Gabriel Bebeselea
Thursday, 17 June 2021 , ora 22.12

Tomorrow, June 16th , from 7pm, the last concert of this season of the Radio Chamber Orchestra will take place. In the program - selections from the work "Les Nations" by François Couperin, the Suite "Le tombeau de Couperin" and the Concerto in G major for piano and orchestra by Maurice Ravel. The soloist will be the pianist Simon Trpèeski, and at the conducting desk will be Gabriel Bebeșelea.
Details can be found from conductor Gabriel Bebeșelea:

We are talking about the concert on Wednesday night, when you will be conducting the Radio Chamber Orchestra, in the last concert of these seasons. A reunion with this ensemble, but also with the music of François Couperin. The program will open with selections from a creation signed by Couperin, followed by a title dedicated by Maurice Ravel to Couperin. What is the story of this election?
In fact, everything went in a different order. The focal point of the concert is the soloist of the evening, namely the pianist Simon Trpèeski. He proposed the Ravel concert, an absolutely fascinating music, which has moments inspired by the French baroque and not only, and by jazz and blues music; these veins leading to the French Baroque sent me to make the following proposal, namely, "Le tombeau de Couperin," a work which Ravel, in fact, wrote in the spirit of Couperin, not quoting exactly the composer's works. French from the Baroque and dedicating it to the memory of his mother and friends who disappeared in the First World War. And from here, the road to Francois Couperin was absolutely natural and natural and I proposed some parts of his most important work for orchestra, namely, "Les Nations".

Speaking of collaborating with pianist Simon Trpèeski, with him you have given other concerts this season, both in Bucharest and Cluj-Napoca. How do you describe this collaboration and friendship that binds you?
We have known each other for a long time. We collaborated in several cities, in Belfast, in Barcelona, ​​in Berlin and of course, this season we managed to have him as a guest, both in Cluj and in Bucharest. He is one of the greatest pianists today, and of course, every time we meet, it is a great joy and a great happiness to be able to make music and to have such a musician as a stage partner. Of course, our common passion for certain music bound us even more and we often met outside the stage and I think this made our performances very special.

Regarding the next season, what projects can be seen?
The next season will be more made up of rescheduling and concerts that were canceled within a year and a half. I hope it materializes. It seems that things are moving towards a certain normalcy. I hope to return to Berlin, Belfast, Moscow, Lille and other places where the concerts should have taken place, but unfortunately, due to the health situation, they were canceled.
Interview by Florica Jalba
Translated by Dumitru Bianca,
University of Bucharest, Faculty of Foreign Languages and Literatures, MTTLC, year I
Corrected by Silvia Petrescu