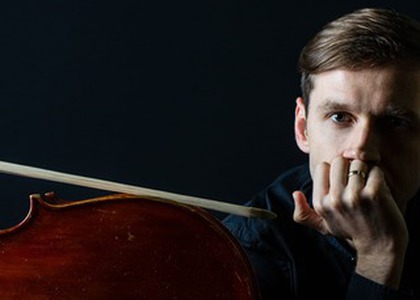 Interview with cellist Octavian Lup about the New Hope project
Thursday, 22 July 2021 , ora 8.44

In the last year, the New Hope Association, led by cellist Octavian Lup, has organized a series of concerts in Romanian hospitals; they were dedicated to both medical staff and patients.

Mr. Octavian Lup, on Wednesday, June 16th, in the courtyard of the "MateiBalº" Hospital, you organized a concert held within the New Hope project. What is the concept of this project based on and where did the idea start?
New Hope means that hope must never die, it must be renewed, because it is the force that helps us to overcome difficult moments. Basically, New Hope and music are two entities that blend harmoniously. We started the idea of doing this series of concerts in Romanian hospitals from the thought that people who stay there and who probably live their last moments on a hospital bed, can be comforted, can be encouraged, can receive, here, as I said, new hopes and I think this is a major impact for every person. And the moment you suffer, and the moment you are down or depressed ... as George Enescu said, music must start from the heart and address the heart.
When I conceived this project, I thought how could I be more relevant to the society in which I live? How can I get even closer to people, to their souls, to those deep, unknown little rooms that every human being has, especially when people are suffering, when they are vulnerable, when they need a message of hope? of light? And I think that music has this ability to put them there, sheltered, in our soul.
We are an orchestra of professionals - about 30 musicians this time - who put their souls together in one soul and set out to take this message to the hearts of the sick who will listen from the windows of hospitals. And, last but not least, we want to pay tribute to the doctors who during this period, as you know, were at the forefront of the fight against this virus. So, we believe that through art and with its help we can address both those who suffer and those who have been with those who have suffered and who, some of them, have given their lives for us.

What are the upcoming events in the project and which guest musicians will participate?
We are in an important moment. We will do a national tour with AlexandruTomescu and the New Hope Orchestra at the end of August - beginning of September. We will go through the hospitals in Brașov, Sibiu, Cluj Napoca, Piatra Neamț, Bistrița and Bucharest and we want this message of hope, joy and victory, because it is also a concert of victory against this virus - to be heard, to cross the whole country and, if possible, to reach everyone. This concept of going with an orchestra of professionals, an orchestra of well-known musicians, elite musicians from the country through hospitals is a unique thing and I think it will resonate with many people.
I would like to thank Paula Seling very much, who understood the deep message we offer people through music, and, of course, my colleagues for participating. It was a wonderful project! Many thanks to Master Daniel Jinga who guided us. And, here, a family of musicians managed to take this message where it is needed.
Interview by Maria-Isabela Nica
Translated by Crețu Elena,
University of Bucharest, Faculty of Foreign Languages and Literatures, MTTLC, year I
Corrected by Silvia Petrescu