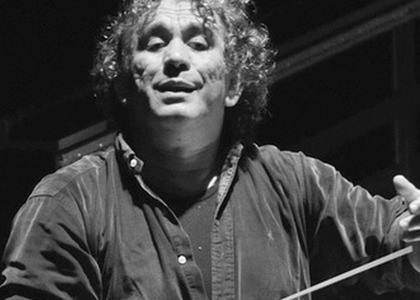 Interview with conductor Nicolae Moldoveanu
Thursday, 30 September 2021 , ora 13.10

On Friday, June 25th , 2021, the season of the National Radio Orchestra ends with a concert conducted by conductor Nicolae Moldoveanu. On this occasion, the World's First Fear Concerto for flute and orchestra, composed by Dan Dediu, will be presented in the first absolute audition.

You will be in charge of the National Radio Orchestra in the concert that ends the season. With what thoughts do you return to the ensemble's rostrum?
It is a great joy in addition to the fact, of course, that it is a great honor to return to the rostrum of the wonderful National Radio Orchestra. This pandemic, of course, affected us all, regardless of professional activities, personal life, etc. This week's concert is, in fact, a takeover, although the pandemic situation has improved in some countries, but not in the UK, which, unfortunately, currently has a somewhat more dramatic situation and that conductor from Great Britain failed to come, so I replaced it, being the big symphony radio orchestra, but at the same time I had a concert scheduled with the chamber orchestra, which was canceled twice and eventually I managed to do it for the third time. So it was an extremely dramatic season.

Friday's concert program also includes a work presented in the first absolute audition. How do you describe the concert for flute and orchestra World's first fear composed by Dan Dediu?
It was a great joy to study this new score by Dan Dediu and just before this interview I had the opportunity to meet the flute soloist, Ionuț Bogdan Ștefănescu and to pass the score with him, flute, respectively I on piano, making the score reduction. It is a very interesting score, which Dan Dediu describes in detail in the preface and I hope that this preface will be possible to be read by the audience either live in concert or at a future date, when the concert will probably be broadcast the radio. The concert is written in seven movements and each of these movements is an episode, including the isolation of people at home, who because of this COVID virus must move away from society.

How is the collaboration with the flutist Ion Bogdan Ștefănescu?
It is of course, first of all, a friendship that has bound me to the soloist for many years, he was before the soloist of the Enescu Philharmonic, an orchestra with which I collaborate since 1993, if I'm not mistaken, so it is a very old collaboration that started immediately after the revolution. So we knew each other very well and we understand each other both on stage and behind the scenes, of course, that we are friends, from a social point of view of the word, but also of course, musical partners.
Interview by Alexandra Scumpu
Translated by Dumitru Bianca,
University of Bucharest, Faculty of Foreign Languages and Literatures, MTTLC, year I
Corrected by Silvia Petrescu