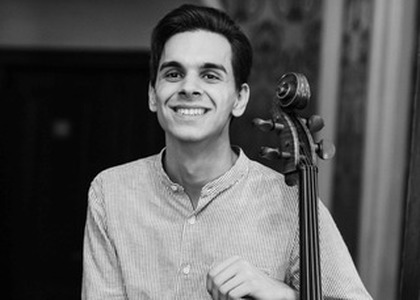 Interview with cellist Cornelius Zirbo about Tuesday evening's season
Thursday, 21 October 2021 , ora 15.57

Tuesday evening's season takes place at "George Enescu" Philharmonic and continues today, October 19th, with a recital performed by violinist Mihaela Mitrofan, cellist Cornelius Zirbo and pianist Karina Uță. The winner of "Moștenitorii României Muzicale" scholarship, Cornelius Zirbo, gave us information about the progress of his project, which he financed with the aid of the "Moștenitorii României Muzicale" scholarship.

Cornelius Zirbo, you will be performing a chamber recital together with violinist Mihaela Mitrofan and pianist Karina Uță tomorrowat "George Enescu"Philharmonic, on the 19thof October, during Tuesday evening's season. How did this invitation find you?
Each time I return to Tuesday evening's season, I feel both great joy and honour at once. I can say that I am looking forward to tomorrow's recital with great enthusiasm and pleasure, and the fact that we will be having an audience is an even greater piece of news. I am very happy to have received an invitation.

The program will include pieces written by composers such as Gabriel Faure or Camille Saint Saens. What were the criteria for choosing such pieces?
My colleagues and I have decided take two different approaches for this recital: the first part will include a series of miniatures from the French School of Composition, while the second part involves the Smetana Trio, which we studied thoroughly during our chamber music classes last years, at the University, and we thought this would be a great opportunity to perform it.

Have you ever performed this program before, or it is the first time that you present it to an audience?
We had the chance to interpret the Smetana Trio last week during the "Vibrate" Festival in Brașov. However, in my case, this is the first time that I perform Faure's Sicilienne and Elegy. These are two pieces that I have wished to play for a very long time, and now I found the perfect opportunity to do just that, so I am excited to interpret them.

Cornelilus Zirbo, you are the winner of the "Moștenitorii României Muzicale" scholarship, a reward for your accomplishments in your professional development. We know that you were planning on attending a masterclass and acquiring a bow. How is your project coming along?
I can tell you that I managed to get my bow, which makes me very happy. We are talking about a French bow made my Jerome Thibouville Lamy in 1910. It is absolutely magnificent to be able to say that I improved as a cello player since I've gotten it. At the same time, the masterclasses are still ongoing. This year's edition has just been made public online, and I truly hope I will be able to attend. I really hope I will be accepted into them and, if it happens, I surely will participate.

How does your musical agenda look like for the upcoming period?
With our current situation, it is somewhat inadequate to say "look like", because we must continuously adapt and always have backup plans for the situations when our concerts or events are cancelled. Lately, we managed to adapt to this formula quite well, but, ideally, if everything goes according to plan, I am currently getting ready for a contest in Pretoria, South Africa. It is about the "Unisa" violin and cello contest. Besides this one, I have to prepare for a series of auditions, among which are the auditions that I proposed for the "Moștenitorii României Muzicale" scholarship. A tour was scheduled for next month, that I was supposed to attend to together with my good friend Cadmiel Botac. However, it has been postponed for the months of January or February, because of the pandemic. This tour would include the cello and piano Sonata by Rachmaninov and Liszt's Sonata. Besides this tour, we also have another one scheduled in Dubai with The Romanian Youth Orchestra for a festival of chamber music. This is, more or less, how my agenda for the next few months looks like.
Interview by Maria-Isabela Nica
Translated by Ioana Grigoruță,
University of Bucharest, Faculty of Foreign Languages and Literatures, MTTLC, year II
Corrected by Silvia Petrescu