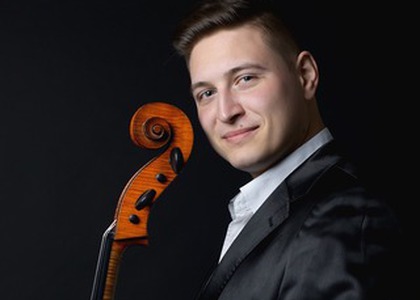 Interview with cellist Ștefan Cazacu
Wednesday, 27 October 2021 , ora 14.43

The National Opening Tour Overtures of the PlaCello Ensemble arrives on Wednesday, October 27th, 2021, at the Radio Hall. Tchaikovsky, Mozart and Rossini are some of the composers you will be able to hear, in a program made up entirely of arrangements of overtures. The impressions about the concerts so far within the tour, but also about the event at the Radio Hall, were offered to us by the cellist Ștefan Cazacu in the following iterview.

On Wednesday you will be singing together with the PlaCello Ensemble on the stage of the Radio Hall, in a concert registered in the Overture national tour. It is the fourth of the five events you propose. How did the tournament go so far?
The tournament was full of adventures, of fun, successful concerts and full of life. We started the first concert of this tour in Bacau, were we were warmly received by Moldovans, after which we went to Reghin where we had a big surprise. I think that we had the most spectators in Reghin, together with a group of about 40 fourth grade children, non-musicians, who came and surprised us, and after the concert they wrote to us short letters and, of course, the one who took care of the children also sent us the short letters. They had never been to a classical music concert before, so it was something new for them, new for us, to see them rejoice. They were extremely quietly, they didn't cough, they didn't shout, they didn't make any noise. They simply listened to music. The third concert took place in Sibiu, where we were received by the Sibiu Philharmonic, and now it follows in Bucharest, at the Radio Hall.

Are there differences of vision when it comes to interpretation? How do you coordinate from this point of view?
Of course there are different visions. It is best to come up with more ideas, try them all, see if they work out. There must always be a man from the outside who can tell us: that idea seemed better to me, the other sounds better. The important thing is that someone don't look at us, so that he is not influenced, and says: 'Oh, look, I thought that idea was better, and we shall use that.'

On your personal behalf, what do you consider to be the strengths of the program you present, consisting entirely of arrangements of overtures, so as to attract the public?
Strengths: it's something fresh, it's something never done before, full of life, entertainment. It is very diverse, even if they are all overtures, you will see that we will go through several styles. I hope people will appreciate what we do.

You will be on stage with cellists Razvan Suma, Ella Bokor and Mircea Marian. How is the collaboration going?
In addition to friends, colleagues, we are a team. It goes very well and we always help each other, we support each other. All four of us also teach at the University of Music, this year, so somehow, we see each other almost all the time.
Interview by Alexandra Scumpu
Translated by Beatrice-Andreea Porumb,
University of Bucharest, Faculty of Foreign Languages and Literatures, MTTLC, year I
Corrected by Silvia Petrescu