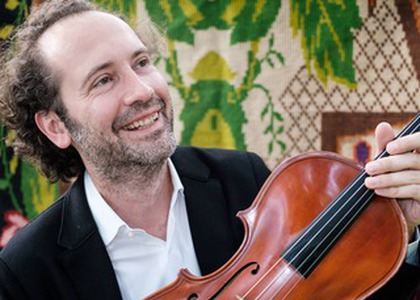 Răzvan Popovici, this week's Perpetuum mobile guest
Monday, 1 November 2021 , ora 13.41

On Friday, the 29th of October 2021, a new edition of the SoNoRo Festival begins with a concert at the Bragadiru Palace in Bucharest. Titled "Dreamtigers", this edition is dedicated to the homage of writer Jorge Luis Borges and composer Astor Piazzolla, who would have been 100 years old this year. The concert program includes songs by Henry Purcell and Astor Piazzolla. Violinist Răzvan Popovici, SoNoRo Festival's director, talked about this year's edition.

We have violonist Răzvan Popescu, SoNoRo Festival's director, live, through phone. Welcome!
Good evening! Feels good to be here once again!

On Friday, the 29th of October, begins the XVIth edition of the SoNoRo Festival. What is this year's theme for the festival?
This year's theme is uncommon, I would say. It is called "Dreamtiger" - Tigers ripped out of a dream. And these tigers ripped out of a dream are a recurrent theme in Jorge Luis Borges' great art pieces; for us - for Diana Ketler and me, the ones who created this edition's programme - his art has been an oasis of wonders and greatness, extremely stimulating creatively, and inspiring for our repertoire. So, I would say that the public can expect to see a really special edition.

The series will start with a concert celebrating Astor Piazolla - at the beginning if this year it's been 100 years since the birth of the conationalist Jorge Luis Borges. Can you tell us about the programme of the first concert?
Actually, the first two concerts will honor Piazzolla, because we are happy due to the cvasi-argentinian theme that comes once with the centenary of Piazzolla - the public will be able to understand throughout the shows that this is not all about Borges. The main attraction, let's say, is going to be the Argentine bandoneonist Marcelo Nisinman - a great teacher of Piazzolla. He will play along us and along numerous European artists from a repertoire consisting of Piazzolla and traditional tango (music that led to Piazzolla), but also compositions of Marcelo, that, practically, carries on this flame of tango nuevo; whenever each writer chooses a tango, a theme and it carries on in his own way, while also keeping the tradition.

Răzvan Popovici, since you talked about the artists coming to the SoNoRo Festival, can you tell us who we will be able to hear this year during the shows at Bucharest, Brașov, Sibiu and Cluj-Napoca?
Oh, it's a whole group of extraordinary artists! I think about 30. They are all famous musicians, for example, Gilles Apap, Mihaela Martin, Diana Ketler… Louis Lortie is coming once again to Bucharest… Alexander Sitkovetski, but a lot of new artists as well. I am incredibly happy that the Boston-based Romanian violonist Irina Mureșanu accepted our invitation. Also, the great Russian violist from Viena, Alexander Zemtsov, and cellists like Andreas Brantelies or Manuel Fischer-Dieskau will play for the first time at SoNoRo. And these are only a few names. Maybe I'm not saying too much to all of our listeners, but I think that if they have some time left to check out our site, they will see the extraordinary artists we are waiting for in Romania.

Festival.sonoro.ro - it's good to remind people of the site. You are organizing some of the shows in recusant locations from the capital. Why and which are these locations?
This has been our wish and the plan was extraordinary. Unfortunately, due to the current restrictions and the sanitary situation here, we had to change some of these locations. However, what's good to hear is that we kept the Bragadiru Palace as the core of this festival, of this edition in Bucharest. Then, the shows will take place in the cultural institutions, because that is allowed - Arcub, the Radio Room and the Romanian Ateneu. Furthermore, the national tour includes the philharmonics from Cluj, Sibiu and Brașov. And we have another special location in Cluj that is a surprise. The Reforming Church (Biserica Reformantă) is one of the places from Cluj where concerts happen, and it's also a location our festival will fill with music.

We've gotten to this, let's say, more delicate part during this period, unfortunately… which are the conditions under which someone can take part to these festival events?
The conditions are restricitve, as everyone may be aware of; I won't say anything new. Practically, the halls will have a capacity of 30%, and the people who want to take part to the show must prove that they have been sick or that they are fully vaccinated… and that's about it. Apart from that, let's try to have fun… the masks, obviously, don't forget your masks at home and… leave the rest to us!

At one point, is there going to be a theatre-labirinth-type of show, in collaboration with the UNATC students?
Yes, since we have Borges' masterpiece as our main inspiration, and since we are aware of what a wonderful world, the extraordinary universes this masterpieces presents - the time, the labyrinths, the mystery - he's a great master of paradox and made us collaborate with UNATC. At first, because we had two splendid concerts taking place in unusual places belonging to the UNATC, we met the students there and we are planning this theatre prologue inspired by Borges' masterpiece. Starting with Saturday night, it will take place before the concert at the Bragadiru Palace.

So, this project will happen! This I wanted to make sure.
Yes, I happily confirm it wil happen.

Then, on Friday, the 29th of October - the first show of the SoNoRo Festival of this year will take place! Răzvan Popovici, thank you for your presence at Perpetuum mobile and good luck!
Thank you very much!
Interview by Lucian Haralambie
Translated by Liliana Popescu,
University of Bucharest, Faculty of Foreign Languages and Literatures, MTTLC, year I
Corrected by Silvia Petrescu