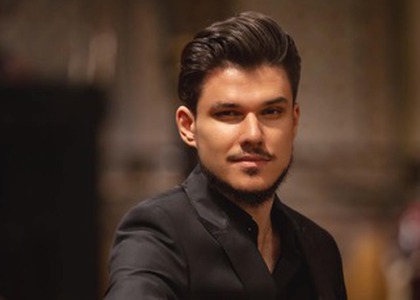 Interview with conductor Andrei Stănculescu
Monday, 1 November 2021 , ora 14.06

On October 29th 2021, the Prelude Chamber Choir will be holding a concert at the Ion Dumitrescu Philharmonic in Râmnicu-Vâlcea. After spending five decades under the guidance of their founder and conductor Voicu Enăchescu, Prelude Choir will be making their debut alongside a new conductor, Andrei Stănculescu. In the following interview, the musician has spoken with us about the significance of this moment.

Andrei Stănculescu, you are following in the steps of the conductor Voicu Enăchescu, leading the Prelude Chamber Choir. This collaboration began a few years back, when you became a member but also conducting assistant. What does becoming the conductor of this ensemble mean to you?
The story begins in 2016, when I received an invitation from the maestro Voicu Enăchescu to prepare Prelude for a concert at the Romanian Athenaeum alongside the Romanian Youth Orchestraand conductor Cristian Măcelaru. This continued in this optimal direction for the following five years. Becoming the conductor of this ensemble has tremendous meaning to me. It is a huge responsibility which I try to honour during every day of rehearsal alongside my colleagues. As a matter of fact, it is the confirmation that my generation - the generation I represent - is able to carry on the choral art tradition, while, of course, bringing in new and fresh elements. One of the essential qualities of music is that it can never run out - it feeds on itself during the creation process, and also during the performance process. This makes my work on the one hand extremely easy because I receive so much from my colleagues, who are legitimate professionals, and on the other hand, extremely difficult as we all have to reach common ground. Maestro Măcelaru would say - and rightly so - that music is created in a kind of intimacy that requires a spiritual connection. This is very difficult to reach! And the age of strict and authoritarian conductors is long gone, which is a very good thing.

Your first concert as the conductor of Prelude Choir will be taking place at the Ion Dumitrescu Philharmonic in Râmnicu-Vâlcea - your hometown. Is there a personal reason behind this decision?
Evidently, there is a subjective component. It is on the same stage that I conducted a choir for the very first time, and within my design, although I am someone who enjoys open shapes, even open shapes carry symmetries. Yes, I truly enjoy conducting in Vâlcea, and in the past years - ever since Petruț Constantinescu has been the manager of this institution - I have been a constant presence in front of Vâlcea's orchestra, and also in front of the Euphonia Choir. In fact, the Euphonia Choir is the first professional choir I have ever heard on stage. It is a big honour to conduct them in the October 29th concert.

What future plans do you have for the Prelude Chamber Choir?
Until the year ends, we have at least two scheduled concerts - one will be on November 22nd at St Iosif Cathedral - dedicated to Saint Cecilia Day, the patron of music, and a second concert on December 8th alongside the Romanian Youth Orchestra with a fantastic soloist distribution, on the stage of the Romanian Athenaeum - Saint-Saëns' Christmas Oratorio. As you know, it is the hundred year anniversary of the astounding composer's death. Although it is a strange, difficult period, I am inviting melomaniac audiences to the Prelude Choir's concerts, because - even if it is vital and natural to care for our physical health - we must also not neglect our emotional and mental health.

Photo credit: Zvasile Adrian
Interview by Alexandra Scumpu
Translated by Carla Bețianu,
University of Bucharest, Faculty of Foreign Languages and Literatures, MTTLC, year I
Corrected by Silvia Petrescu