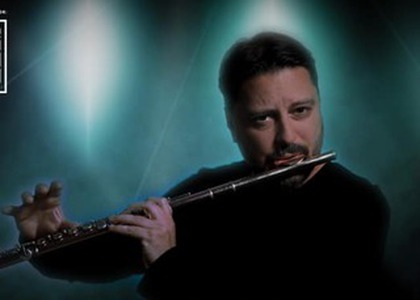 Interview with flutist Matei Ioachimescu
Tuesday, 2 November 2021 , ora 19.21

Between October 30th and November 13th, the National Electric Tournament takes place, conceived by flutist Matei Ioachimescu, composer Cristian Lolea and multimedia artist Tom Brîndș. The three offer audio-visual performances in cities such as Brașov, Sibiu, Cluj-Napoca, the tour ending with an event at the Radio Hall. Find out what it is all about from the flutist Matei Ioachimescu.

The National Electric Tournament starts tomorrow in Brașov. How did the idea for this project come about?
We are very happy to announce an extraordinary tour of the Electric show, starting from a collective idea, from an extraordinary group of people who, before collaborating, knew their activity very well, a group of friends who, here, laid the foundations a very, very special show. Composer Cristian Lolea came up with a work that combines different forms of expression, a 45-minute work for flute and electronic media; more precisely, electronic instruments and show of lights and lasers. Everything in a complete show. Tom Binduș, an extraordinary multimedia artist to be appreciated in Romania and beyond, took charge of the visual part, and to complete this show, Patricia Vincent, a young clothing artist who is settled - lives and works - in Vienna, joins this team. She will come to complete this show with some extremely attractive costumes.

As you mentioned, the tour is a result of the collaboration with the composer Cristian Lolea and the multimedia artist Tom Brîndș, responsible for the audio-visual part of the shows. What actually happens during the event? What should the public expect?
First of all, to an immersion in a world they have never experienced before. Electric is, after all, a complete experience. Music can be seen, and what is seen is a component of a musical discourse, again, completely original. It is a total show, a show in which the audience will completely forget about everyday worries, will be immersed in a completely new and absolutely fascinating world. This music is, after all, somewhere at the meeting of styles, it is, if you will, somewhere where film music meets rhythmic music, mainstream music and contemporary cult music. Therefore, an extremely attractive show for the public!

How did you choose the name of the project and what is its significance?
There were several name suggestions. I think Electric fits in every way. First and foremost, because we are all connected in an electrical and electronic environment. On the other hand, it is an electrifying show for the audience. Therefore, a better name for what we do here could not be found. It is very suggestive and, at the same time, it shows very, very well what we want to present to the public.
Interview by Alexandra Scumpu
Translated by Alina-Mihaela Burciu,
University of Bucharest, Faculty of Foreign Languages and Literatures, MTTLC, year I
Corrected by Silvia Petrescu