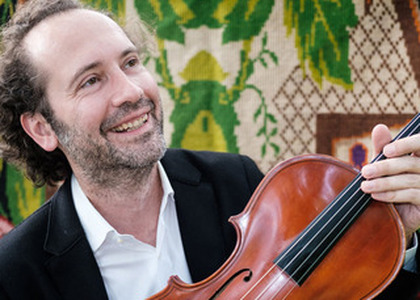 Interview with Răzvan Popovici, director of SoNoRo Festival
Monday, 8 November 2021 , ora 10.57

The SoNoRo Festival continues tomorrow night, November 4th 2021, with a concert on Sala Radio's stage. This year's festival is called Dreamtigers and is linked to Argentinean writer's Jorge Luis Borges work. He is the one who gave the name of Thursday's evening event. RăzvanPopovici, the director of SoNoRo Festival is going to share details on the event.

The Maker and the Listener - this is the title of Thursday's concert at Sala Radio, enlisted at SoNoRo Festival. What is the significance of the title and how does it pair with the featured program?
As the 16th edition of the festival started a few days ago, the audience already knows each concert title originates from one of Jorge Luis Borges' works, the great Argentinean author. For this program I've chosen a few pieces, that bundled as such, pair with one of Borges' exquisite works. The concert will commence with George Enescu's Serenade lointaine3for Piano Trio, followed by one of Ludwig van Beethoven's great Trios, the Archduke Trio, which ends the first part of the concert. After that, it is our great pleasure to present to our audience at Sala Radio an amazing string sextet by great English composer Frank Bridge, which is rarely played. By the end of the concert, the audience will surely understand why we named the concert the way we did.

Let's talk about the artists performing tonight. There are Romanian, as well as foreign musicians. How did it come to this particular line-up for Thursday night?
It's nothing out of the ordinary. It's just artists who take part in this edition of our festival and are in Bucharest. Together with Diana Ketler, we chose how we'll associate the pieces with the current line-up. Together with Benedict Klockner and Argentinean pianist Jose Gallardo, the amazing Romanian violinist from Boston, Irina Mureșanu will be playing Beethoven's Trio. Serenade lointaine3for Piano Trio by George Enescu will be played by Maria Jurcă, student at Geneva Conservatory, and Ștefan Cazacu, who just as Maria had been a SoNoRo scholar for several years, and who has started a very promising career. We thought of Enescu's piece as a small gift, an intermezzo dedicated to the gifted youth in Romania and more that can bring a youthful look to our program. And playing Bridge's Sextet we have Japanese violist from Berlin Tomoko Akasaka, cellist Julian Arp from Graz, I will be playing the viola, and I am thrilled to welcome for the first time, here, in Bucharest, Moldavian-Russian-Belgian violinist Tatiana Samouil, and will perform as first violinist.

This edition's busy schedule shows there are almost daily events featuring the usual performers of SoNoRo concerts, but also some first-time performers here. What's next?
Next, we'll have a little tour de force until the end of the week, with concerts at Palatul Bragadiru, at National Museum of Art of Romania-the Auditorium or at the Romanian Athenaeum. We'll have a grand concert per night, with programs inspired from Borges' work.Next, we'll continue our traditional national journey with a concert at both Brașov and Sibiu Philharmonic Orchestra. And then, i hope we will sucessfully wrap up this year's edition of the festival at Cluj, where we will have one concert at the Reformed Church and at the Auditorium Maximum of Babeș-Bolyai University.
Interview by Alexandra Scumpu
Translated by Monica Andreea Gaman,
University of Bucharest, Faculty of Foreign Languages and Literatures, MTTLC, year I
Corrected by Silvia Petrescu