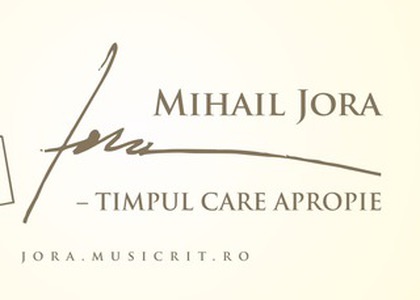 Interview with the protagonists of the Mihail Jora project's closing recital – The time which brings togetherness
Tuesday, 9 November 2021 , ora 15.11

On November 8th 2021 the closing recital for the "Mihail Jora - The time which brings togetherness" project will be taking place. The event is a reiteration of a historical recital which took place on November 8th 1941. The protagonists of this recital are pianists Daniel Ciobanu, Raluca Știrbăț and Ștefan Doniga, violinist Diana Jipa and soprano Laura Tătulescu. They are giving us more details about the recital's programme as well as the behind the scenes.
Ștefan Doniga, please tell us about this project and what it means for a musician!
To take part in this project is a joy because it is multi-faceted. Beyond the artistic part and the participation in a recital, Mihail Jora is a symbol for our culture, for the Romanian schools of music, which must be researched; this man who has left his mark on an era and who paved the way for composing, musicology and for the understanding of Romanian schools of music. So to take part in such a project cannot be anything but joyous and delightful.

You will be taking the stage accompanied by soprano Laura Tătulescu and violinist Diana Jipa. What can you tell us about the pieces you will be performing?
They are mostly pieces by Mihail Jora, as is appropriate for such a celebratory event. I will be playing the The little suite for violin and piano with Diana Jipa, who has been my partner when it comes to chamber music for the last few years. This particular suite is made up of four beautifully unusual pieces, representative of Mihail Jora, but specific to that time period. I think it's an extraordinarily attractive and interesting piece for the public.
This is the first time I will be performing alongside Laura Tătulescu, which I am very, very happy about. Accompanied by her, I will be playing a cycle of four lieder by Mihail Jora which are stylistically similar to the The little suitefor violin and piano. These will be followed by other two wonderful pieces, two crowning jewels, two compositional filigrees of Paul Constantinescu and Gheorghe Dumitrescu.

Madam Laura Tătulescu, it's my understanding that this is your first collaboration with Ștefan Doniga.
Yes, that is so. I'm very happy, because I have heard of Ștefan and his accomplishments... He has always tried to showcase and to bring to people's attention a unique kind of music, which unfortunately, is done so rarely. That is why I am so happy to collaborate with him, besides the fact that he is an exceptional pianist.

How do these Romanian lieder fit into your repertoire?
Firtly, I'd like to say that the idea of recreating this concert is an exceptional initiative; because it brings to light a repertoire so rarely played. It is our duty, as artists, as organizers, to bring a new repertoire to the public, a repertoire that's not usually performed, to bring forth something unique. From this perspective, there's a plethora of Romanian pieces. Unfortunately, most of them are not published. But everywhere I've been, I've sung Romanian lieder. And the fact that I can now showcase this repertoire pleases me very much, because it is extremely beautiful, with folk influences embedded into a Romanian's soul, and it'd be a shame not to bring it to life.

Diana Jipa, considering the experience you have when it comes to performing this kind of Romanian chamber music, how would you say the public reacts to this sort of recital?
The public is usually very receptive, even if they're not used to it. Indeed, the Romanian public is often times familiar with pieces by composers representative of universal music. I've always noticed a willingness to discover new things, especially since Ștefan and I have tried to introduce a variation of the Romanian repertoire instead of focusing on some overly popular pieces.

How would you describe this Little suite? It is a rather unknown piece, as far as I can tell.
It's both known and unknown... some time ago it would be played mostly by students, except it is very complex; the reason why, indeed, it's not very well known and hasn't been approached with the seriousness it needs and deserves. It's a complex piece in terms of sonority, harmony, and the violin's tempo is somewhat antithetical; but these sound facets merge together very beautifully.

Madam Raluca Știrbăț, what is the unifying point of the pieces you will be performing?
The wonderful idea of reiterating this anniversary concert that took place on November 8th 1941 in honor of a great man, teacher and composer, Mihail Jora - to quote Constantin Silvestri, "a great man, never treasured enough" - this idea was the basis of the mini-programme that I will be performing on Monday. I'm talking about Suita Joujoux pour Madame by Mihail Jora, composed in 1924 and immediately edited by Universal Edition in Viena, as well as two pieces by Constantin Silvestri, one of Jora's pupils, the one who came up with the idea of this anniversary concert in 1941; the piece is Concert Piece no.3, composed in 1944 and dedicated to pianist Irina Lăzărescu. This is followed by a piece written in Silvestri's youth, the already famous Bacchanele composed in 1933.

What do you think of this initiative - the reiteration of a historical recital?
It's a splendid idea and I'm glad that it started, somewhat, from an idea I put into practice a few years ago in Kozerthaus in Vienna, where I put togethere a programme of music by Romanian composers - not just Enescu, others as well - because we have some extraordinary music, a plethora of composers that we, Romanians, still showcase so little of. Which is why such ideas, such concerts, such programmes are always more than welcome. Dare I say the public overseas has been extremely enthusiastic and always receives this music with much curiosity and enthuziasm; be it Jora, Silvestri, Paul Constantinesc and others.

Daniel Ciobanu, I'd like to talk about Allegretto rustico by Romeo Alexandrescu and Sonatina for the Left Hand by Dinu Lipatti. What should we know about these pieces before listening to them during the recital?
Let's go in order... Sonatina for the Left Hand by Lipatti we're basically led through various states of mind, spiced up by numerous Romanian folk motifs. Allegro rustico by Romeo Alexandrescu is a piece that is, once again, inspired by Romanian folklore; compared to Lipatti's Sonatina though... I, at least, find it has a more powerful esoteric mood. The elements of mystery, of the unseen and of the mind playing tricks on you give it an almost antigravitational character, which takes me to some sort of parallel universe where I no longer feel like I am there as a pianist, but more as a distant observer.

The pieces played 80 years ago belonged to comtemporary composers, which have now become important names in the history of Romanian music. How would you describe the presence of contemporary music in today's concert hall?
Fortunately, I've noticed that more and more works by contemporary composers have started to pop up. The most obvious example was during the Enescu Festival, which has just ended. I believe that it is extremely important to keep an eye on them and to play their music as much as possible. After all, contemporary music is a mirror image of the times we live in, here and now, and it gives us emotional support with which to truly resonate so that we feel, in turn, sort of understood by this abstract form of manifestation which, I think, can purify us more deeply than any other form that is expressed through words.
Interviews by Petre Fugaciu
Translated by Bianca-Maria Ciucașu,
University of Bucharest, Faculty of Foreign Languages and Literatures, MTTLC, year I
Corrected by Silvia Petrescu