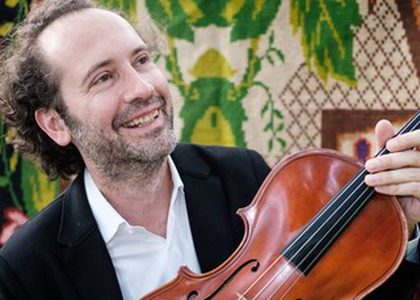 Interview with violist Răzvan Popovici
Wednesday, 17 November 2021 , ora 15.22

The George Enescu Philharmonic proposes this week, on Thursday and Friday evenings, two concerts in which it will have as guests the violinist Mihaela Martin and the violist Răzvan Popovici, in a program that includes the Double concert op. 88 in E minor for violin, viola and orchestra by Max Bruch and Symphony VIII by Antonin Dvorak. Details about the two events were provided by Răzvan Popovici in the following interview.

After the SoNoRo festival, which ended on November 14th, 2021 in Cluj-Napoca, you are returning to Bucharest for two concerts with the violinist Mihaela Martin at the Romanian Athenaeum. What are your thoughts towards these events?
Returning to the Athenaeum stage together with the George Enescu Philharmonic is always a great, great joy, and the fact that we will be performing with Mihaela Martin this splendid piece by Max Bruch, Concerto for clarinet or violin, viola and orchestra, is a great honour for me. We all know what kind of violinist Mihaela is and for me, so to speak, a young musician of the next generation is always an honour to share the stage with Mihaela.

As you said, you will perform the Double Concert op. 88 in E minor by Max Bruch in the version for violin and viola accompanied by the Bucharest Philharmonic Orchestra. A few years ago, you presented this piece for clarinet and viola on the stage of the Radio Hall together with ThorstenJohanns. Does the partner musical instrument influence the way you approach this piece?
No. The approach is the same, because, obviously, the viola part remains unchanged, but certainly, the violin interpretation will be different from the one we did a few years ago, as you said, at the Radio Hall. I think that the timbre of the viola and the violin in dialogue with the orchestra will create different sounds on the Athenaeum stage.

Please tell us about your collaboration with Christian Badea, who will be conducting the Bucharest Philharmonic Orchestra.
It is a great joy that this Double Bruch concert will be conducted by maestro Christian Badea. For me it is a collaboration in premiere, so I am very curious and very excited about how we will perform together with the Philharmonic.
Interview by Alexandra Scumpu
Translated by Elena Patricia Măroiu,
University of Bucharest, Faculty of Foreign Languages and Literatures, MTTLC, year I
Corrected by Silvia Petrescu