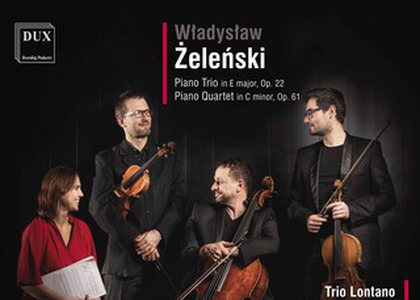 Interview with violist Adrian Stanciu about the nomination of the record written alongside Trio Lontano at the ICMA Awards
Wednesday, 24 November 2021 , ora 16.22

Among this year's ICMA Awards nominated records is the one with music by Władysław Żeleński written by Trio "Lontano" together with violist Adrian Stanciu. The Romanian musician is also the conductor of the "WitoldLutosławski" Chamber Orchestra of Łomża, another ensemble that was nominated at this year's ICMA Awards for the album "Harmonica Polonica Nova".
First of all, I'm honoured as well as happy about the nomination for the International Classical Music Awards, finding out about it from my colleague from Trio "Lontano", the cellist; he sent me the news and of course I was very happy.

Tell us a bit about this ensemble, Trio "Lontano", and your collaboration.
The idea and the invitation to record came from my colleagues in Trio "Lontano", who emphasize and promote Polish music. We have known each other for a while, since I came to Poland, and we collaborate quite often.

How did this collaboration start?
It's a very interesting thing! The pianist in the trio is half Romanian (the mother is Romanian and the father Polish). That's how we met. She was a piano teacher at the music high school and found out that I had moved to Poland. That's how we got in touch and we've been working together ever since.

You say you moved to Poland four years ago. How did you come to this decision?
It was a decision made together with my wife. We met in Vienna, where we both finished our studies. After our daughter was born, we thought it would be easier to be either in Romania or in Poland together with our family.

You said you finished your studies in Vienna.
I finished at MDW Wien. I finished my first university in Romania, in Iași-The George Enescu University of Arts, and then I left with the quartet and studied chamber music. I was in the class of Professor Johannes Meissl. We specialized in chamber music... many festivals, competitions... with the Gioccoso Quartet. It wasn't an easy decision, but we thought it would be the best place to study, where the capital of classical music is. I don't regret studying there. I met teachers, artists, very special people.

Władysław Żeleński is a little-known composer in Romania. How did you discover his music?
Also thanks to my colleagues in the Trio "Lontano", they promote Polish music a lot. WladyslawZelenski's music is in a neo-romantic style, based on influences from the style of Glazunov, Rahmaninov, and the German Romantics. I'd say Żeleński's art is special, but unfortunately not well enough known and promoted. And for me it was a very special surprise.
Interview by Petre Fugaciu
Translated by Paula-Silvia Codescu,
University of Bucharest, Faculty of Foreign Languages and Literatures, MTTLC, year II
Corrected by Silvia Petrescu