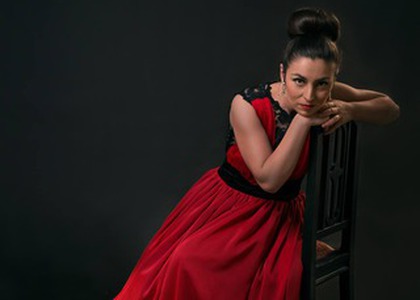 Luiza Zan interview - 'live performers miss you as much as you miss live concerts'
Thursday, 2 December 2021 , ora 9.40

Thursday evening, 25th of November, at Sala Radio, will take place the first concert performed by the Radio Big Band during the 2021 - 2022 season. The soloist of the ensemble conducted by Ionel Tudor will be Luiza Zan - one of the most appreciated female voices in Romanian jazz today. On the occasion of this concert, the album Night and Day, will also be released, about which Luiza Zan gave more information in the Perpetuum mobile edition on the 24th of November.

"Night and Day" - the February 2019 concert with the Radio Big Band and conductor Ionel Tudor - has been transformed into a new record, to be released with a pandemic delay on Thursday evening at Sala Radio. Before talking about this record, Luiza Zan, how are you looking forward to your reunion with the audience at Sala Radio?
Good evening! With great excitement, especially as I have also prepared a few little surprises that I haven't had a chance to rehearse with the Big Band yet, so the excitement is doubled by the eagerness to hear them, to listen to them with the Big Band arrangement. And I'm not going to say what it's about because I'm hoping everyone will be keeping their ears on the radio, because tickets are sold out to get into the hall. It's with these thoughts that I await the concert.

How was this whole pandemic, lockdown period with very few events?
It was a very complicated period. It was an extremely difficult period for me because, during this pandemic, I discovered that I suffer from an addiction that I don't know how to cure, namely addiction to the public. I discovered that I have a hard time without applause. I had to resolve some dilemmas about my narcissism, if you like, because for me it was a proof that I like to be around the audience, to be validated by the audience, but at the same time I was faced with an unfulfilled need to express my thoughts. I think this inability to express yourself freely is the frustration that had to be somehow met by all live performers.

That brings us to the "Night and Day" record, released Thursday night. It includes two tracks you signed - The Lake and Her Violin. Please tell us about them.
The Lake is a song written to the lyrics of Mihai Eminescu; it is a solo vocal piece, so a piece without accompaniment. It is a gospel song, a spiritual song, if you look at it from a musical point of view. It's a piece that is very dear to me because I'm very fond of Eminescu. I wrote it in the centenary year; on the occasion of that year, I wrote several pieces on Eminescu's verses, which I wanted to put on a record, but only this piece fit on the "Night and Day" record, because it is in fact the recording of a live concert. And for that concert I only planned The Lake from the repertoire of lyrics by Mihai Eminescu. And Her Violin is a piece I wrote that appears on the Heritage album, released in 2016. The version on the Night and Day album is masterfully orchestrated by Dave Stamps, a very dear friend from the United States.

And what are the other tracks included on "Night and Day"?
The first track on the record is Cherokke, a track that I really, really like because it's a fast swing track, a very moving, very fast track and I think it's nice to open a record with a very dynamic track. Other tracks on the album are, I'll give them in random order, Black Coffee, which is an ode to coffee - I'm a coffee addict, I admit; Orange Colored Sky, which is one of the first jazz tracks I played in front of an audience; Night and Day, of course, and... about as much as my memory is helping me at the moment. If you'll keep your ears on the radio, you'll hear all the tracks on the Night and Day album, which is also available for sale, and on the evening of the concert it will be available in the foyer of the Radio Hall with my autograph and the autograph of master Ionel Tudor.

I am glad you mentioned that this concert will be also broadcast live on Radio România Muzical. Do you have a final message for those who will listen to you on Thursday, starting at 7 pm?
Yes! I've got a pretty big surprise for you towards the end of the concert, so I really want you to be patient until the end. I hope you enjoy your listening, and remember, live performers miss you as much as you miss live concerts.
Interview by Lucian Haralambie
Translated by Lenuța Bejenaru,
University of Bucharest, Faculty of Foreign Languages and Literatures, MTTLC, year I
Corrected by Silvia Petrescu