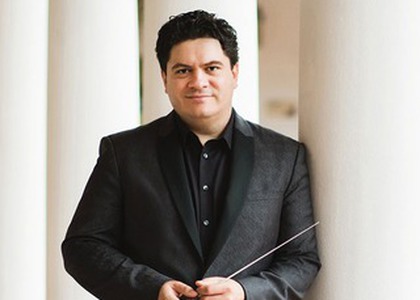 Interview with conductor Cristian Macelaru
Monday, 6 December 2021 , ora 10.03

You have a very full professional agenda and I wanted to begin by discussing a bit the nominalization of your most recent record- Piano and orchestra concertos by Shostakovich featuring Simon Trpceski. You've been collaborating with the Macedonian piano player for a while now. What makes your artistic bond so strong?What do you appreciate in each other?
Simon is a very straightforward artist, very honest in his ways of making music, and I appreciate that very much. He always tries to find the right character and voice for every composer. I've had many concerts alongside Simon, with different composers, and I've always appreciated that he searches for the character; and I want to emphasize that, because you can see very clearly in the way he plays that he knows very well what is a real Shostakovich, what is the character of a concerto written by Shostakovich and how to interpret it. And I find that very appealing, because I look for the same thing in music: I try to find every composer's identity, apart from all other composers, the individual voice that he has. And in this respect we get along very well, Simon and I. On the other hand, Simon has such an outgoing personality, he is very easy to work with, he is very friendly...he is my friend even. That's why this album has been made with great pleasure. It was made during the pandemic, right in the middle of the pandemic, when nobody knew anything. It was made out of pleasure and with great joy!

The official list of the ICMA (International Classical Musical Awards) nominees was recently published. When did you find out that you have been nominated, and how did you take the news?
To be honest, I found out when you called to ask me to give an interview about it. I didn't know. I think Miss Comandasu call me the very next day and I still didn't know. So, it was a surprise brought from Romania by the radio. Thank you!

Two more albums will come out, both of them in November 2021. One of them is dedicated to the music of Saint-SaŽns and will be released on the 26th of November. Could you please tell me what is it about? What program did you record, what artists did you feature, under which label did you record?
It's a set, actually, 3 disks on which we perform the 5 symphonies of Saint-SaŽns alongside the National Orchestra of France. They have been recorded under the label Warner. As for the 5 symphonies...those who know a bit about Saint-SaŽns's music, might wonder if I am not mistaken in saying there are 5 of them, because the most known one is Symphony no 3 with the organ, but he has a total of 5 symphonies. The 3rd one, the one with the organ is in fact the final one, and the other four are, of course, symphony no 1 and no 2, but then there are two others that are not part of this numbered series, they do not have a number. All the four ones before the organ one, have been written in his youth, in between the ages of 17 and 21 or 22 years old. And then, after a while, he came back to the symphonic style and wrote what we know as Symphony no 3.
During this anniversary year we all wanted to discover these symphonies which, unfortunately, are not performed often anymore, but which remain some extraordinarily beautiful works. To me, all symphonies, even the less known ones, hold values in the history of music and more, they also hold value in the concert halls, and they should be on the same level as the symphonies of Mendelssohn or Robert Schumann, which are made in the same style in a way, because, as a young composer, Saint-SaŽns have been strongly influenced by Schumann. And these symphonies from his youth show us this extraordinary talent that every musician who've met Saint-SaŽns talked about-an extraordinary piano and organ performer, but at the same time, a highly successful composer.

You're conducting for two nights in a row a concert with the National Orchestra of France, one of the assemblies that you permanently collaborate with, that you conduct. The musical program is dedicated to Saint-SaŽns, exactly on the day when we commemorate 100 years from his death, on the 16th of December. Are the album that you've talked about and these concerts part of a larger project that you've planned with the National Orchestra of France for this anniversary year?
Yes, it is an anniversary project, alongside the fact that during the first part of the 2021-2022 season, during every concert we have presented some work by Saint-SaŽns, to contribute to this anniversary. And the concert on the 16th of December, which marks 100 years since his death, is a concert during which we will interpret Symphony no 3 with an organ, that is true. But during the other part of the concert we will perform the less known Requiem. I really wanted to do it because it is, again, a piece that is less interpreted today, but it is a piece that I find very beautiful. It is a piece that I think shows the vocal-choir style of Saint-SaŽns, that we, of course, find in his works and which, I think, is very important to know.

How do you think Saint-SaŽns's music is perceived at this time in France?
Saint-SaŽns remains a very well appreciated composer. Of course, not all of his works, not the entire catalog is that much known, but, fortunately, he has written many pieces and that is why even the few well known works of his, very appreciated and very frequently interpreted, keep his place in this constellation of the preferred composers in France. I'm referring, of course, to Symphony no 3,to the piano concertos, the concerto for violin...and many of those pieces that are interpreted very very often. And that is why, Saint-SaŽns is one of the very well-loved composers here.

On the 30th of November, at the Casa Radio publishing house, a new record in which you conduct the Romanian Chamber Orchestra assembly will come out. What did you record with the Romanian artists?
First of all, I want to say a few words about this assembly, because it is a special orchestra or project. It is a chamber orchestra that, for this record, was a string orchestra. The idea of the assembly is that it has a very flexible composition, but certain things remain the same, such as the collaboration between Romanians outside the country and the Romanian artists that are in Romania. Besides these already known and well established artists, we always bring along young or upcoming artists, to work together with and to help them get known and appreciated for what they do. And this has actually always been in my soul, this desire to combine what is outside Romania with what is inside it, to work with Romanian artists everywhere and most importantly, to help young Romanian artists grow.
As for the record itself, it is Death and the Maiden by Schubert, in an arrangement made by myself. I haven't changed a single note from what Schubert has created, but this pieces was originally made for a string quartet, and many other composers before me have changed the components of the quartet and made it for a string orchestra. And I, in my turn, have adapted it for us, for our assembly, this musical masterpiece, that really is a profound and special work...Schubert's music remains a mystery to me, in the sense that it is such a natural music, so easy to love, but at the same time it is so extraordinarily elegant, noble and sophisticated. And that remains an outright mystery to me, because it is not easy to understand how did Schubert manage to write so much and so well and in such short time. It's like each note is a direct revelation! I sometimes think about how fast and easy Schubert wrote, like taking dictation directly from God. The way in which his music flows on the paper really is extraordinary!
And on the record we performed this piece that is so beautiful, but that is less known for a string orchestra, and we have really enjoyed exploring this piece together.

Is it a studio recording or a concert recording?
It is a studio recording that we made in Bucharest, when we met for that project during which we performed in multiple cities of the country, and when we got to Bucharest, we made this studio recording.
Interview by Irina Cristina Vasilescu
Translated by Ioana Busuioc,
University of Bucharest, Faculty of Foreign Languages and Literatures, MTTLC, year I
Corrected by Silvia Petrescu