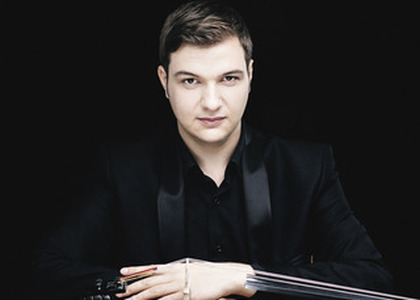 Interview with cellist Andrei Ioniță
Monday, 6 December 2021 , ora 10.07

On Wednesday, 1st of December 2021, an extraordinary concert will take place at Sala Radio, dedicated to Romania's National Day and to the 10th anniversary of Radio Chișinău. The Radio Chamber Orchestra and the National Chamber Orchestra of the Republic of Moldova will come together under the conductor Gabriel Bebeșelea, with cellist Andrei Ioniță as soloist.
More details from Andrei Ioniță:

You're back on the stage of the Radio, this time for a special concert on a holiday. What are your thoughts as you begin your preparations for the evening?
With thoughts of hope. It's been an extremely difficult year, in fact a year and a half already, and I'm particularly happy to be playing for the first time with the Radio Chamber Orchestra. I also think it is my first concert in Romania on this special day, December 1st.

And not only with the Radio Chamber Orchestra, but also with the National Chamber Orchestra of the Republic of Moldova, conducted by Gabriel Bebeșelea. This will be the second time you will collaborate with conductor Gabriel Bebeșelea, after the concert in Cluj-Napoca in June. How do you see this collaboration, which you are repeating?
I can say that Gabriel Bebeșelea is a friend. We got along very well ever since the first rehearsal we had in Cluj. I also hope that this will not be our last collaboration.

You will celebrate Romania's National Day by performing Joseph Haydn's Concerto No. 2 in D major for cello and orchestra. What motivated the choice of this title?
I've been thinking and discussing with Gabriel what repertoire would be appropriate for this concert and for the chamber orchestra. We came up with this wonderful concerto by Joseph Haydn, part of the standard and beloved cello repertoire. It is a concerto, perhaps not as brilliant as C major, but perhaps even more difficult, a highly refined piece of music. We also managed to create a narrative thread to this concert. Gabriel can tell you more about this narrative thread.

As for you, when and where will you play after the evening of the 1st of December?
On December 6th I will perform, also on the occasion of Romania's National Day, at the Romanian Embassy in Berlin, together with pianist Daria Tudor. Next year I will perform some important concerts with the Konzerthaus Orchestra in Berlin and the Gewandhaus Leipzig under the direction of Herbert Blomstedt. I also hope to make it to the United States, where I would have some concert dates in Boston, Detroit, London Philharmonic and so on.
Interview by Florica Jalbă
Translated by Lenuța Bejenaru,
University of Bucharest, Faculty of Foreign Languages and Literatures, MTTLC, year I
Corrected by Silvia Petrescu