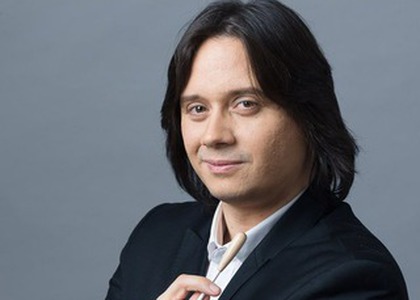 Interview with conductor Gabriel Bebeselea
Monday, 6 December 2021 , ora 10.14

Romania's National Day is celebrated at the Radio Hall by a concert given by the Radio Chamber Orchestra and the National Chamber Orchestra of the Republic of Moldova, reunited under the baton of conductor Gabriel Bebeșelea. As a soloist, the audienc ewill be able to follow the cellist Andrei Ioniță. Details about the event and about the evening program were provided by the conductor Gabriel Bebeșelea.

On December 1st, return to the Radio Hall for a concert dedicated to the National Day. The Radio Chamber Orchestra, for which you are a frequent collaborator, will perform together with the Chamber Orchestra of the Republic of Moldova. Is this the first time you've been in charge of this ensemble?
Yes, I have never collaborated with the Chamber Orchestra of the Republic of Moldova, but as far as I know it is an extremely grounded orchestra in the Eastern European musical tradition and I am very happy to collaborate with those who work in the Chișinău Organ Hall, an extremely good room, with a very pleasant acoustics.

We know that in general, you pay special attention to the choice of programs. Is there a concept this time that links the works to be interpreted?
Of course. Even if maybe at first sight this red thread that connects all the works is not noticed, it is about a program that I thought from a perspective of the multiculturalism of the current space of Romania. We wanted to reach as many points as possible that connect us and unite us in Romania and from my point of view, multiculturalism is perhaps the most important aspect and the most important gain that December 1st brings us.

Together with cellist Andrei Ioniță, the soloist of the evening, you were on stage for the first time this year, in a concert held at the Transylvania Philharmonic in Cluj-Napoca. How would you describe the collaboration with the musician?
Andrei Ioniță is a musician of a special refinement and sensitivity and I can say that I am sure that the Haydn he will perform in the company of the Radio Chamber Orchestra will be a special one, because I know his appetite very well and the attention to detail, which can only beautify and can only add energy to this concert.

On December 6th, you will have a concert together with the Romanian Youth Orchestra, the violinist Valentin Șerban and the cellist Ștefan Cazacu also dedicated tot he National Day of Romania. Please give us more details.
It is a concert in Dubai, at the world exhibition, where I am very happy to return to the rostrum of the Romanian Youth Orchestra with a repertoire based this time on multiculturalism, but on European multiculturalism, integrating Romanian music within this repertoire.
Interview by Alexandra Scumpu
Translated by Alma Teodora Miron,
University of Bucharest, Faculty of Foreign Languages and Literatures, MTTLC, year II
Corrected by Silvia Petrescu