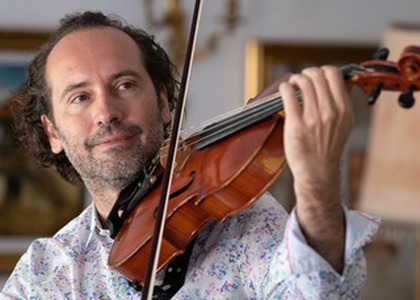 Interview with violinist Răzvan Popovici about the anniversary of the SoNoRo Festival
Wednesday, 8 December 2021 , ora 10.52

Today, December 2nd, at the Weill Hall of the famous Carnegie Hall complex in New York, a concert takes place that marks both Romania's National Day and the 15th anniversary of the SoNoRo Festival.

Firstly, please remember how you started the SoNoRo project.
I started it as a small musical initiative with a few friends and as you can see, after 16 years it became a cultural platform and I think it has made many people happy during these 16 years.

What were your goals or ideals then?
The goal was to make good music. The goal was to build a long-term, high-profile festival with excellent artists and good concerts to delight the audience. It was not a great philosophical goal, but we simply wanted at the beginning when we started the festival to do something of high quality and I think now we are here 16 years later. This was primarily based on this desire and this plan of ours, to bring the highest quality to each of our concerts.

The recital takes place at Carnegie Hall, one of the most important American stages, and the SoNoRo project has undoubtedly international amplitude. I wanted to know, why did you choose this scene for the anniversary recital?
The public probably knows that 5 years ago and 10 years ago we celebrated every jubilee, every five-year SoNoRo in New York, somehow it was a complex of circumstances and I was able to do that, and obviously when I opened the Pandora's box with this anniversary concert at five years of SoNoRo and ten years of SoNoRo we couldn't help but do it again at the 15th anniversary and it was great last year. The date offered by Carnegie Hall for the invitation for our concert was December 1st, on the National Day, so we were very happy last year that we also celebrated Romania on the occasion of such a musical anniversary. So basically two things in one concert. Due to the pandemic, obviously last year's concert was postponed this year. Now, the date we received was again gratifying for Romania, December 2, so we will celebrate with ICR and obviously with the New York public, 15 years, more precisely 16 years of SoNoRo, because the 15th anniversary it is celebrated a little later. Obviously, we also wanted to celebrate SoNoRo, being a 100% a Romanian product and the National Day of Romania. To celebrate it with good Romanian music, we chose, in addition to a small and splendid miniature of Enescu, entitled Serenade Lointaine for piano trio, as well as the Romanian Rhapsody, which the Romanian audience often listened to in our interpretation and which I think brings this effervescence of Bucharest to New York. Beside, we thought of a program worthy of Carnegie Hall, which would highlight us, the musicians, we chose Gabriel Fauré's first piano quartet in C minor. It is a piece that Professor Enescu composed in a masterful way, which fits very well with Enescu's Romanian Rhapsody, and in the second part we chose a famous piano quartet by Antonín Dvoűák, one of the repertoire reference for this combination of musical instruments.
Interview by Petre Fugaciu
Translated by Elena Patricia Măroiu,
University of Bucharest, Faculty of Foreign Languages and Literatures, MTTLC, year I
Corrected by Silvia Petrescu