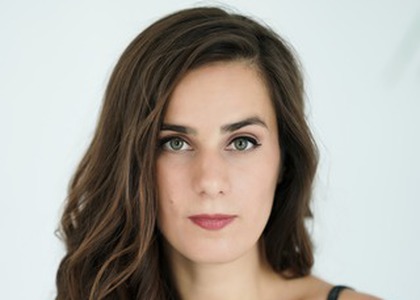 Interview with jazz soloist Irina Sârbu
Friday, 17 December 2021 , ora 16.03

Christmas is here is the title of the concert that takes place on Thursday, December 16th, 2021, on the stage of the Radio Hall, which you will be able to listen to live on the frequencies of our radio station. Under the baton of conductor Ionel Tudor will be the Big Band Radio and the jazz soloist Irina Sârbu, who gave us more details in the following interview.

On December 16th, you will be the lead singer of the concert entitled Christmas is here! What are your thoughts expecting your return on the stage of the Radio Hall along with conductor Ionel Tudor and the Big Band Radio?
It is a great happiness to return on the stage of the Radio Hall and in this formula, in which it is a great pleasure for me to sing. I am always happy to receive Mr. Tudor and Big Band's invitation to perform together. We expect and want it to be an extremely positive concert. We have chosen American swing songs, very positive for this period that we all live in. We want to bring a positive note in the lives of those who will come to listen to us and, at the same time, to sprinkle the Christmas magica little - as it's not very long until Christmas - to bring the magic of Christmas in the hearts of the spectators who will be on Thursday evening at the Radio Hall.
As a repertoire, we have chosen well-known songs from the repertoire of American Christmas songs - Let It Snow, Santa Claus is Coming to Town, Sleigh Ride, White Christmas are some of the songs we will perform.

What plans are in your schedule for the next period?
Fortunately, now that the restrictions have been relaxed, there has beena real boom in December. Yesterday evening I had a concert at the Athenaeum, this too a Christmas concert. It was very beautiful, a really magical atmosphere! The audience sang with us. It was very nice. After the concert at the Radio, on December 19th I will sing at the Turnul Prahova Monastery another Christmas concert. Then, a Christmas concert in Botoșani with the Botoșani Philharmonic and the conductor, arranger, orchestrator and pianist Simona Strungaru. We will perform in Botoșani on December 22nd. It will be the last concert before the holidays, with the theme of winter holidays.
For next year, projects are underway, we are preparing a new album, Ethnotic Project, the album number two. We continue the series of concerts and shows for children, Classic is fantastic, at the Romanian Athenaeum and at the Odeon Theater. For now, that's about it, but we hope for new proposals!
Interview by Alexandra Scumpu
Translated by Ecaterina Bucovanu,
University of Bucharest, Faculty of Foreign Languages and Literatures, MTTLC, year I
Corrected by Silvia Petrescu