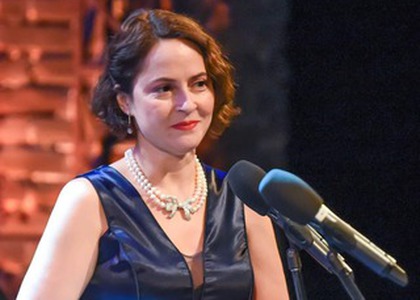 Interview with Sandra Ecobescu, the president of Foundation Calea Victoriei
Friday, 17 December 2021 , ora 16.05

The New Year's concert organized by foundation Calea Victoriei has reached the eight edition and will bring in front of the audience on the 7th of January 2022, singers as Mădălina Barbu, Renata Vari and Alfredo Pascu. About the theme of the event conducted by Tiberiu Soare, Sandra Ecobescu talked about, the president of Foundation Calea Victoriei, in the next interview.

On the 7th of January 2022, the foundation Calea Victoriei together with National Opera from Bucharest organizes the eight edition of New Year's concert. If last edition was created around Spanish themes, this time the event is proposing a Musical trip in Vienna from la belle epoque. How this idea of the theme appeared?
We are very happy that we can continue this tradition. 2022 theme belongs to the conductor Tiberiu Soare, the one with whom in every year we have done this amazing New Year Concert. It is the eight edition and he though to bring back the second part of XIX century vienesse atmosphere.

Beside the show concept, what new things you will bring to the eight edition?
Before I start telling you about the three singers, I would talk about the fact that it is a great honour and joy for us to deploy the eight edition of New Year's Concert at National Opera of Bucharest and in collaboration with National Opera of Bucharest which, as you know, celebrating 100 years. Therefore, we are in a festive and elegant frame, with a tradition beyond the expectation. We started at Odeon Theatre, then continued to Radio Hall, we had some editions at National Theatre, but now, here we are,due to the fact that Tiberiu Soare is a lover of opera, as he says, both a phenomenon and an institution, we are now doing the concert at the National Opera of Bucharest together with the collaborators there, who are also enthusiastic about this joint project.
The night guests are three very talented artists, who have voices and a repertoire that has rehearsed what Viennese music and the operetta area mean. In the first place I would mention Alfredo Pascu, who has an exceptional voice. I recently saw him in Operetta Gipsies Lord. Then, the soprano Renata Vari and the soprano Mădălina Barbu, with whom, the audience is already familiar. She is third time invited as a guest to our New Year's Concert. Therefore, we will have some sparkling voices, full of energy, of light, which will bring at this beginning of the year, on January 7th, a lot of joy and a lot of enthusiasm in the hearts and souls of all those who will participate both in the hall and those who will hear this gala concert on Radio România Muzical.

Photo credit: Andrada Mihailescu
Interview by Alexandra Scumpu
Translated by Laura-Elena Dobrin,
University of Bucharest, Faculty of Foreign Languages and Literatures, MTTLC, year I
Corrected by Silvia Petrescu