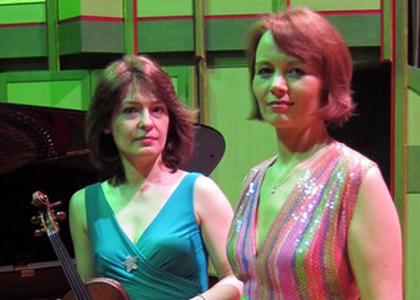 Interview of the day at Musica Viva – violinist Irina Mureșanu and pianist Valentina Sandu-Dediu
Friday, 17 December 2021 , ora 16.13

The 48th edition of the Musical Craiova International Festival, organised by the Oltenia Philharmonic, awaits the recital by violinist Irina Mureșanu and pianist Valentina Sandu-Dediu. Mureșanu is an US based musician and Sandu-Dediu is well-known through her musicological activity and her performance. I am delighted to have both them on the phone this morning, as they are already in Craiova, probably preparing for rehearsal.
Good morning!
Good morning!

I would like to start off the discussion by asking Mrs. Irina Mureșanu how she feels about her return to Romania.
Irina Mureșanu: I was in Bucharest about a month ago for the SoNoRo Festival. This visit took place after a long hiatus caused by nothing else but a small pandemic, as we all know. I was glad to come back, and this time around, I am extremely happy to have such collaboration partners. Because next to Valentina there is composer Dan Dediu. We are, in fact, a trio.

Since you mentioned the pandemic, I would like to ask about how it was for you during this period over in the US?
Irina Mureșanu: This question can have a very long answer, but I'll be giving you the short version. I am an optimistic person and I always try to find the positive in a negative situation. In reality, it has been a creative period for me in a very different way than it has been for the past two or three decades. It has been good, overall. I don't think you hear this from everyone.

Yes, as far as musicians are concerned, opinions are split. I held some interviews on this topic during the pandemic, and most of the musicians I spoke with were enjoying having more time to record, study, and do things they otherwise wouldn't have had time to do, so I do understand your positive perspective.
I would like to ask Mrs. Valentina Sandu-Dediu to talk to us about today's recital, and the programme which Craoiva's audience will get to enjoy. It is a recital that passes through several musical ages and cultures.
Valentina Sandu-Dediu: That's right. It's a programme that we thought of together, Irina and I, as we had and end-goal to the recital - that of launching the CD we completed some years ago yet which only came out in 2021 during the pandemic. I think a positive thing is that all three of us had plenty of time to listen to the recordings and finally polish this Dan Dediu authored CD. So, we startwith this CD and will be playing snippets of the pieces on the CD. And in between these snippets, Irina has proposed a journey through very different styles and composers - from Bach's Cioconnato Piazzolla - so that the audience is familiar and happy with what they hear. They will be able to become familiar with the new pieces they hear but also have the comfort of hearing familiar things.

Mrs. Mureșanu, if you have anything to add, please go ahead.
Irina Mureșanu: Of course. The Dan Dediu fragments we'll be playing and tied to characters, specifically mythological creatures (the piece is called Mythological Anthology) and will include a mandragora, a sphinx and a hippogriff alongside the dragon, griffin and unicorn that are included in the full-length piece. We will be opening the recital with Don Giovanni/Juan and will include well-known characters in Mozart's opera and Richard Strauss' Symphonic Poem. I also thought that Cioccona, next to the other pieces - Kreisler's Recitativo and Scherzo, a piece of a Persian composer named Reza Vali, the Chinese composer Bright Sheng, Piazzolla - which are part of another project and CD of mine called Four Around the World, are, in fact, characters in diverse musical cultures.

Mrs. Valentina Sandu-Dediu, I'm aware that this collaboration with violinist Irina Mureșanu is not only a professional one but also has a friendship at its foundation. Would you say it's easier to perform next to such a close friend? It is also an experience you have playing next to Mr. Dan Dediu or playing his music. And I will, of course, be asking this question to Mrs. Mureșanu as well!
Valentina Sandu-Dediu:What can we say? If you ask both of us, we do share an old friendship. But our friendship did if fact consolidate even further through the very act of performing together. We both found - and I think I can say this with Irina's approval, as she very beautifully wrote this of the CD we just spoke of - that we have a sort of relationship… how do I say this, you can study chamber music in two, you can perform together for entire decades and develop an important duet relationship or chamber partner relationship. But for us it was instantaneous. We have this understanding even now. We don't see each other for years, but two rehearsals are enough for us to reconnect like in the old times when we would study for hours in the Bucharest Conservatory, sometimes guided by DinuCiocan. So, truly, an old friendship links us, an old collaboration and I want to thank Irina publicly as well, as she was the one who insisted that we play together. I had some drafts, but she didn't give up, thankfully. She set me back down at the piano. We rehearsed yesterday and I feel the same pleasure to have her near. It's not a relationship that depends much on time and space, it is where it is.

Mrs. Irina Mureșanu, this extra-musical connection, if we can call it that, how does it influence you?
Irina Mureșanu:I obviously wish I could copy Valentina's answer, but since we're on the radio, I can say that we are literally on the same wavelength. It's not something you learn and is probably the secret of every duo, every chamber music ensemble… it's almost inexplicable, but real.

And also a very beautiful thing. Mrs. Mureșanu, you will be holding a concert in Craiova on Friday as well. I would like to talk about this. The concert will mark the end of the Musical Craiova Festival, which also marks 117 years since the first concert by Craiova's Philharmonic Society. I saw that you will be playing Max Bruch's Concerto no. 1, as well as George Enescu Romanian Rhapsody in a violin and orchestra arrangement by Cristian Lolea. Please tell us more.
Irina Mureșanu - This extraordinary Cristi Lolea arrangement was something I asked for more than ten year ago for a string orchestra I was playing with in Boston. The repertoire for violin and string orchestra is actually very limited and I thought of this version seeing as, unfortunately, there isn't a George Enescu violin concert, just certain pieces finished by other composers. But I thought that for the American public, it would be an amusing variation of Rhapsody no. 1 which I asked CristiLolea to link to a cadence that actually imitates fiddlers' cadence… one of the songs Enescu uses is Ciocârlia. And this cadence imitates the sounds of various birds. It is a moment that emerges from the rhapsody and that justifies, in a way, this arrangement for violin and string orchestra.

Thank you to Mmes. Irina Mureșanu and Valentina Sandu-Dediu for their live participation and I wish them the best of luck on the stage of Craiova's Philharmonic, where you are invited to listen to today's recital and Friday's concert.
Interview by Andreea Kiseleff
Translated by Carla Bețianu,
University of Bucharest, Faculty of Foreign Languages and Literatures, MTTLC, year I
Corrected by Silvia Petrescu