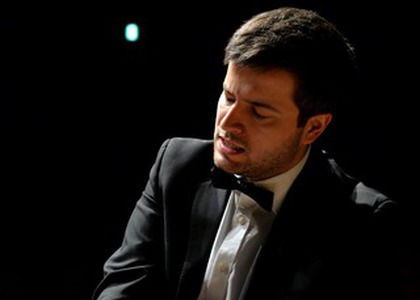 Interview with pianist Florian Mitrea
Monday, 17 January 2022 , ora 10.07

The "George Enescu" Philharmonic Symphony Orchestra, under the baton of conductor Radu Popa, will perform a concert dedicated to National Culture Day on Saturday, January 15th. On the stage of the Great Hall of Romanian Athenaeum, the soloist will be the pianist Florian Mitrea.
Saturday, January 15th, on the Romanian Athenaeum's stage National Culture Day will be celebrated. In a period of time in which we notice the effects of globalization and in which musicians are often present on international stages, what does national culture mean?
After all, national culture is an identity point of reference and I don't think that the affiliation to an international circuit with our national identity, the one of the Romanian artists, the identity of people of culture, excludes itself. On the contrary, I have always militated in favour of a place of honour in which Romanian culture, through its artists and its cultural creation deserves it at an international level, a global one. It is essential to know how to preserve our identity as Romanians. However, at the same time, it is important to keep ourselves relevant at an international level. Beethoven wasn't necessarily still Germany's; he belongs to humanity; it is all about the great art, the great music which transcends physical and temporal borders, and they become universally available. Because, after all, cultural values exist in the majority of contexts, no matter where they find themselves in the world.

How can we promote Romanian culture on international stages?
Romanian culture has a lot to express and as long as it is wisely done at a professional level, at a very high level, it will rise by itself. I don't think that a right away effort is absolutely needed for promoting culture itself. If culture has anything to say, if us as Romanians have anything to add on the cultural stage, roam will always be made. I admit that I'm not particularly a supporter of these… to organize a Romanian music festival in America… because most of the time this attracts only Romanian communities. I have been living abroad for 15 years and when these isolated things occur, only Romanian culture, in fact, the foreign public will react much less compared to when Romanian culture integrates itself among the other cultures. Of course, you enter a concert hall where French and German music are playing. We have to also make roam for Romanian music, but this is done by music itself, through its value, through the way it has been played. It has to be sung very well, culture has to be done at a very high level, and after all, culture's value matters more than an immediate and isolated event to simply promote, usually because results are mixt when one gets along with this principle.

From your experience, when do good results occur?
When we as Romanians, people of culture and artists, musicians, writers - it doesn't matter, in fact, the cultural field in which we operate - we managed to integrate ourselves in the international circuit. For instance, when Angela Gheorghiu comes and sings at Royal Opera House, that is a card of Romanian culture; she is a Romanian soprano who comes and sings at Royal Opera House in London. Of course, she sings whatever different role, not necessarily one from a Romanian opera. Or when "Oedipe" is set into play, it is not necessarily to be a focused effort on behalf of the Romanian Ministers. But if the Royal Opera chooses to set "Oedipe", at that moment, Romanian culture enters somehow in the subconscious of the local public. When we have a Romanian violinist who wins an international contest in Australia, for example, or in Asia. In that moment, Romanian culture makes roam in the moment we got to integrate ourselves. Of course, globalisation has its side effects, but on the other hand, we have to realize that the only chance, from my point of view, is together. I have never believed in isolation, in a preservation of Romanian culture in a place of its own, in a corner of its own, on the contrary, it has to be pushed toward the world and it has to be integrated in international dynamics because it has importance.
For instance, at this concert the fact that Rogalski and Olah are on the same poster next to Beethoven is a matter of great honor. This means that they won universality, the same way Beethoven did it, and the sheer fact that both cultures, the German and the Romanian ones, serve the same musical values, the same artistic values and stand very well one next to the other.
Interview by Petre Fugaciu
Translated by Mara-Sabina Rolea,
University of Bucharest, Faculty of Foreign Languages and Literatures, MTTLC, year I
Corrected by Silvia Petrescu