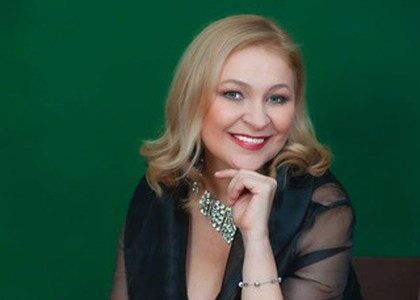 Interview with mezzo-soprano Ruxandra Donose
Wednesday, 19 January 2022 , ora 15.56

Today, on the 17th of January, members of the National Bucharest Opera Orchestra shall walk on the Dubai Millennium Amphitheatre stage, accompanied by soloists such as sopranoTeodora Gheorghiu, mezzo-soprano Ruxandra Donose, tenor Daniel Magdal and baritone Iordache Basalic. We learn more about this concert from mezzo-soprano Ruxandra Donose.

How have the rehearsalsfared so far?
They have been coming along very fast and smoothly. I am glad to be able to work again with the National Bucharest Opera Orchestra.

What works are you preparing for the Dubai Exposition?
We all agreed to choose an accessible repertoire, seeing as we probably won't have the most specialised audience. As such, we shall sing well-known arias with great pleasure. I shall sing "Carmen", "Samson and Delilah" and along with sopranoTeodora Gheroghiu, the Barcarolle from "The Tales of Hoffmann" by Offenbach.

What does this concert represent for the artists of the National Bucharest Opera?
I think any lasting impression and any encounter with the publicis highly appreciated. The stage in Dubai is located outdoors. So at least from this point of view, there should be nothing to fear. For us artists, it is essential to show ourselves to the public and not just to some recording cameras. Personally, it shall be my first time performing in Dubai. It shall be a completely new experience for me. I performed a lot outside of Europe, but mostly in Asia - Japan, China, Singapore, Hong Kong and so on. I eagerly await to meet the public from the United Arab Emirates.

When will we see you again on a stage in Bucharest?
I don't know, but as soon as possibleI hope.I have a very close relationship with the Bucharest Opera and we partake in some very open and meaningful talks. Of course the same applies for the Radio Orchestra as we have been close for many years. So certainly, we will jump at the first opportunity. But, during this season we probably won't be able to hold a reunion as I am busy in other places. I shall sing in various concerts "The Song of the Earth" by Mahler in Dresden, "Wesendonck Lieder" by Wagnerwith the Dublin Orchestra,Requiem by Verdiin Seattle and a new production "La Gioconda" in England at the Grange Park Opera Festival.

Photo credit Nicolae Alexa
Interview by Petre Fugaciu
Translated by Jin-Cristian Yang,
University of Bucharest, Faculty of Foreign Languages and Literatures, MTTLC, year II
Corrected by Silvia Petrescu