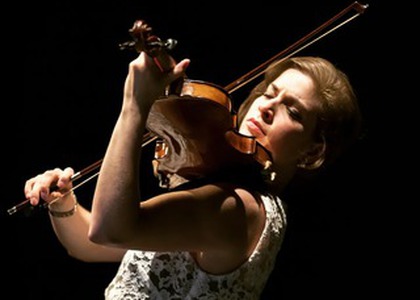 Violinist Ioana Cristina Goicea and the album 'Aachener Walzer'
Friday, 21 January 2022 , ora 13.15

The album spotlights well-known Romanian violinist Ioana Cristina Goicea, graduate of music studies in Germany and laureate of several important international competitions such as New Zealands Michael Hill, the Indianapolis Competition and Queen Elisabeth in Bruxelles. Titled Aachener Walzer, the album launched on November 12th 2021 under Naxos, and is signed by Russo-German composer Andre Parfenov and Pyotr Ilyich Tchaikovsky. The album addresses an interesting theme - Tchaikovsky in Aachen during summer 1887. Conducted by Christopher Ward, the Aachen Symphony Orchestra accompanies the performance.

The piece de resistance featuring on the November 12th 2021 album is Andre Parfenov's Concerto for Violin and Orchestra which premiered in 2015: the confrontation between good and evil is the theme of this concert as Andre Parfenov adapted from Dmitri Shostakovich.

History and personal history impact this album, creating an original and very interesting concept: a personal history with another Romanian violinist,Geambașu Munch - Andre Parfenov's partner in DuoParfenov, ensemble which is enjoying remarkable success on an international level. On this album: a tango dedicated to Werner Sahm, patron of the arts who has supported Iuliana in her artistic life in Germany after graduating from her university studies in Cologne 20 years prior. This great history is explored in another tango - Pilotentango - from a suite inspired by the Uberlinger aviation tragedy where 49 children died in Kaliningrad - Andre Parfenov's native town. These pieces record violinist Ioana Goicea and pianist Andre Parfenov as soloist.

A world-class violinist, brimming with life and imagination - Ioana Cristina Goicea - unique pieces - contemporary works deserving constant re-listening to, signed by an inspired and original composer - Andre Parfenov, and an extraordinary concept, exploring the story of Tchaikovsky's journey to Aachen: this is the recipe for success in the form of a CD. The project ends with Tchaikovsky's final composition in Aachen from the summer of 1887: Suite no. 4 Mozartiana, with a violin solo in its 9th variation, performed by Ioana Cristina Goicea.

During the first days of January 2022, I spoke with Ioana Cristina Goicea in Bucharest, recorded in the Radio România studios for another Radio România Muzical project.

This is your first album from a concert. Is that right?
Indeed, it is the first recording of a concert with an orchestra. I've created albums before, but they were chamber music albums. So, this is a premiere for me.

And it is an unusual premiere, as you're performing an unusual piece.
Exactly. It's a new piece by a composer with whom I worked on stage during the recording. Being in the same space, we worked on the piece before actually recording. Often times when I perform Mozart and Beethoven, I stop to think what the composer meant to say at a certain moment, and now I've managed to be on stage with the composer and discuss this with him, to know his thoughts and perform his piece accordingly, knowing what he wanted and what he intended.

This album has a story behind and I will let you tell us the story yourself.
Yes, it has a beautiful story behind it. It starts from the idea of Tchaikovsky in Aachen, Aachener Walzer. Tchaikovsky visited a friend in Aachen for six weeks and during that time he composed Mozartiana Suite which is greatly under-performed for reasons I can't figure out. It is a wonderful piece! He wrote it in Aachen. The suite is included on the CD. He also wrote a 16 bar sketch titled Aachen Waltzerwhich remained unfinished. The idea for this CD was that Andre Parfenov, the Russian composer, finished this piece in Tchaikovsky's style starting from the original 16 bars.

And, aside from this, we also have a concert for violin and orchestra, and two tangoes signed by Andre Parfenov. Let us talk a bit about the violin and orchestra concert. Generally, I believe it's interesting to see what the composer's language is and what the message behind the music is, which you, as performer, can best decipher.
What I most enjoyed was that Andre Parfenov, the composer, gave me a lot of freedom to bring my own interpretation. We, of course, discussed the main idea behind the composition. Basically, the idea for this concert is war and peace, the fight between good and evil won by good. This is the main idea behind the concert. I had a revelation when I began learning this piece. I was mesmerized… especially because it has a very long cadence which reminds of Shostakovich's Violin concerto which I adore (I don't even have to mention this anymore, everyone knows it). It reminded me of Shostakovich, but the language is different. It is a personal language, it is music and verse at once, there is a lot of sarcasm, a lot of energy, rhythm, but at the same time it has very poetic themes - romantic ones, even. It is a personal language, modern music - a heart-warming piece.

I think it's important that this piece be played in the future. Every time you record something for the first time you think of the next thing to come. What are the selling points that you see? Would you advise other violinists to perform this piece?
It was a great pleasure for me to learn this piece. When I picked up my violin and looked over the notes… I didn't have anything to listen to as I was the first to ever record it… but it was comfortable, pleasant. I loved the music itself, I like its virtuosity, and the cadence… it allowed me to perform my understanding of it and my feelings about it. So, I think this music gives a lot of freedom, you can take the piece and develop it further.

On the other hand, the two tangoes on the album gave us a glimpse of a different Ioana Cristina Goicea, a more playful one, isn't it?
Tangoes are tangoes after all! We recorded them after recording the concert. We had just finished recording the concert - the piece de resistance of the album - and we all relaxed while working on the tangoes. It is a beautiful, laid-back sort of music. The two tangoes are different from one another and this contrast is what makes them special.

Tell us a bit about the experience of recording. How and when was it?
It wasn't easy at all. It took place in March 2021, in the middle of the pandemic when everything was shut. I didn't think we'd be able to gather an entire orchestra. It was a large project. First, we performed Tchaikovsky's concert with the Aachen Orchestra. It was a live recording that was streamed online in place of the real concert we weren't able to hold. After this livestream we continued with the CD. We stayed in Aachen for about a week working on it. As some might know, it's easier to create a CD with an orchestra than it is when you're by yourself… you have an orchestra behind you, some many people… but it all worked out very, very well in the end. I think that we sorted everything out in about two days and everyone was happy with the project.

Tell us some things about your current projects and any future endeavours that await.
A very good question… I'm not sure how many people can answer such a question, but for now I have a job in Vienna, I'm a professor at the Music University there which is an extraordinary thing that happened to me during the pandemic. As for scheduled concerts… I played in December in Berlin for the Konzerthaus Christmas Concert. And to be frank, I've unfortunately had some cancellations in January and February, but hopefully it'll pick up again come spring. I have scheduled concerts with orchestras in Germany and I'll be performing Sergei Prokofiev's Concerto no. 1 in Iași. I'll also be performing with Andrei Ioniță in Bucharest on March 1st at the German ambassador's residence. I'll be at festivals in Austria and in a master-class over the summer. There are some exciting things ahead and I hope they will all happen.

As we're doing this interview, you find yourself in the middle of another project, isn't it?
It's the first time I've ever come home for the holidays and have also found myself working on something. I truly love enjoying the holiday season and working on something at the same time… not just eating, but some work as well. We're currently recording a CD at Radio Romania. Thank you for organising this and for the opportunity to be here. We're cording a Beethoven CD - violin sonatas, cello sonatas and a trio with Andrei Ioniță and Daria Tudor. We're very happy about this CD.

I'm thinking of our previous interview in 2019 when you performed for the Heirs of Musical Romania project. You were telling me that one of your dreams was to become a professor, and here you are, dream come true! I want to ask - how do teaching and performing work together?
I'd say very well. I always knew that it's what I wanted to do. It's a part time job, although I currently have more students that a part-time job entails, but chamber music and soloist activity work together great. Up until this point, I'd say it's the perfect combination.

You can already give us an idea about the new generation!
Yes, it's difficult though, because the new generation is so different… I remember myself from 5-6 years ago, when I was a student, the goals I had, the competitions, preparing for absolutely everything. The current situation is much different and our role as professors is to motivate students to evolve and move further and not stop. Even if, currently, the perspective is more or less clear, they still have to work. Until now, I can say I'm pleased that all the students in my class are trying hard and want to get things done. This is the most important thing and I support it - it's not easy.

Photo credit: eduardoirago
Cristina Comandașu
Translated by Carla Bețianu,
University of Bucharest, Faculty of Foreign Languages and Literatures, MTTLC, year I
Corrected by Silvia Petrescu