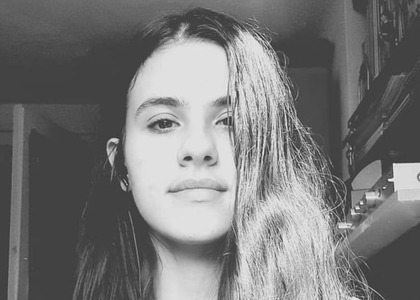 Interview with composer Irina Perneș
Monday, 31 January 2022 , ora 14.22

The young composer Irina Perneș was awarded with the First Prize of the composition section within the 29th edition of ''Mihail Jora'' National Contest.

First of all, congratulations for the award! I would like to talk a little about this song ''The Fauna of Mirror''. How did you come up with the idea?
First of all, I found out about the contest, the contest's theme, and I found it very challenging because it is a special ensemble: a flute quintet, two violins, cello and piano - it is an uncommon combination. And secondly, it also had an extra-musical theme, it had to be linked to a chorographical performance, we had to write a quintet for four dancers - two men and two women. I started from this idea, and I focused on the concept of mirrors, and I thought of Borges, who had an obsession over mirrors, and he has many mirror stories. ''Animals in the mirrors'' has the most narrative course, it is the most dramatic of all his mirror stories.
I believe that it has both a dramatic and a very intrinsic side. And that's what I tried to include in the play. I treated every instrument like a character; I would rather say that I wrote the play for a quartet because I treated violins like a singular character. That's why I chose that story in fact. It is built on the idea of doppelganger. Basically, some of the two male and female dancers are the projection of the others, which correspond to instrumental musical characters.
I would like to develop myself on this side because, anyway, in my previous works I always had a dramatic narrative base behind me, but I would like, little by little, to be more active on the extra-musical side. If I could compose based on chorography or film or theater.

What meaning does such an award have for a young composer?
For me it is extremely important. First of all, it was great news since my song was going to be performed - that was the most important thing for me. Indeed, the award has pretty much value, but the most important thing is that my song will be sang and I'll have the opportunity to hear it performed by such a good ensemble and such good instrumentalists like SonoMania. I could also add that I will perhaps sing in the ensemble, and I find it more interesting to hear my song from the inner perspective of the ensemble, both as a performer and a composer. I regard it as a very personal relationship. I'll play the second violin.
I have had the occasion once to sing with this extraordinary ensemble last year, another piece for string quartet, composed as well by me, and it was very fascinating because it was a much wider spectrum of observations. The instrumentalists could come and ask me what we could change, what we could work, but, at the same time, I also had a performer's role. I am sure that this experience will be extraordinary as well.
Every time I build a new piece of work I have almost the same work process. I choose the conceptual idea for the first time, and then, depending on that idea, I always ask myself how I would like it to sound, what I want to hear and what the listeners would hear. For instance, in the third section of the song I also had a piece with many textual sounds, and I would have liked it to be more complexly written, serialized, but I chose randomness, because, in the end, it is about what the audience hears, and I usually focus on that. Basically, I chose the concept, and then based on the concept I built the form, the song's matrix, and then I started writing every section and I thought about the narrative course of the song. And finally, I wrote the libretto, because I had it in mind from the beginning and it was very easy after the song's writing to build a small scenography.

When will the song be available?
I've heard that it will be sang during the International Week of New Music, which will be held in May 2022. It will be performed by SonoMania Ensemble.
Petre Fugaciu
Translated by Mara-Sabina Rolea,
University of Bucharest, Faculty of Foreign Languages and Literatures, MTTLC, year I
Corrected by Silvia Petrescu